IDX Shows 35 IPO Companies by 2018
By : Arya Mandala And Aldo Bella Putra | Sunday, November 26 2017 - 20:00 IWST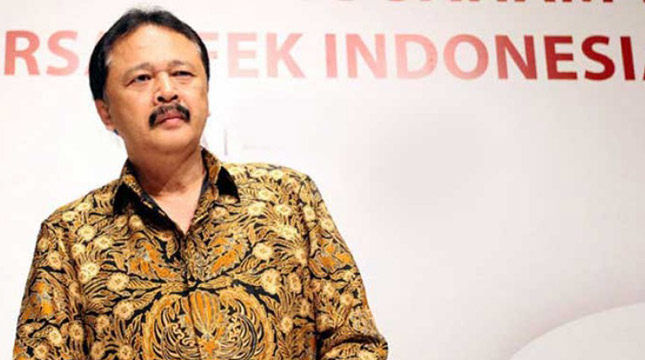 Direktur Utama Bursa Efek Indonesia, Tito Sulistito (indonesianindustry.com)
INDUSTRY.co.id - Jakarta, The target of new issuers set by BEI refers to the assumption of macroeconomic indicators in 2018, namely economic growth in the range of 5.4%, inflation rate 3.5% ± 1%, reference rate of Bank Indonesia at 4.25% and rupiah exchange rate an average of Rp 13,400 per US dollar.
The Indonesia Stock Exchange (IDX) targets to add at least 35 companies that listed their initial public offering in 2018. While the number of listed companies that conduct additional listing (share rights and bonus shares) are 60 issuers.
The bond issuance target set BEI in 2018 as much as 80 issuances of corporate bonds and 156 state bonds.
Tito Sulistio, President Director of IDX, said the targets are prepared by considering the stability and improvement of the national economy in 2018, which in turn maintains the confidence of the prospective Listed Company in collecting capital funds from the capital market.
"In particular, the addition of listed companies in IDX is accomplished by the implementation of the Work Program covering socialization and educational activities for prospective listed companies, strengthening underwriters and supporting professions, and improvement initiatives in the process of IPO (Electronic Book Building)," he said some time ago .
In addition to new share listing targets, rights issues and bonds. In the year 2018 BEI set the average daily transaction value (RNTH) BEI valued at Rp 9 trillion or an increase compared to the target of 2017 revised version of Rp7, 75 trillion.
According to Tito Sulistio, the assumption of RNTH is based on several assumptions: optimism of Indonesia's economic growth, rising exposure of investment grade rating to investment grade rating from Standard & Poor's (S & P) rating agencies, potential for new investors and corporate IPO activities, (LQ45 Futures and Indonesia Government Bond Futures).
In addition, the assumption of RNTH increase in next year is also influenced by the start of operation of PT Pendanaan Efek Indonesia.
Related to the financial performance, in 2018 BEI projected Total Revenue to be obtained amounting to Rp1, 07 trillion, an increase of 12.81% compared to total revenues RKAT 2017-Revised valued at Rp949, 74 billion. The increase in projection is due to the estimated increase in the business income by 14.39%.
The projection of IDX Business Cost for 2018 amounted to Rp924.04 billion (including OJK Levy Fee with assumption of 15% of total revenue for 2018) so that Profit Before Tax becomes Rp147.36 billion. After deducting the estimated tax burden of Rp46.98 billion, the estimated net profit of BEI in 2018 was Rp100.38 billion.
The total of IDX Assets in 2018 is projected at Rp2.55 trillion, up 5.74% from RKAT 2017-Revised amounting to Rp2.41 trillion. The Final Balance of Cash and Cash Equivalents (including short term investments) in 2018 is projected to reach Rp1.31 trillion.
All of these targets are compiled in the Annual Work Plan & Budget (RKAT) of IDX Year 2018 which has been approved by the shareholders of BEI in the EGM RUPSLB at IDX Building Jakarta, 25 October 2017.