Collecting Charitable Funds for Infrastructure
By : Arya Mandala And Aldo Bella Putra | Sunday, November 26 2017 - 21:00 IWST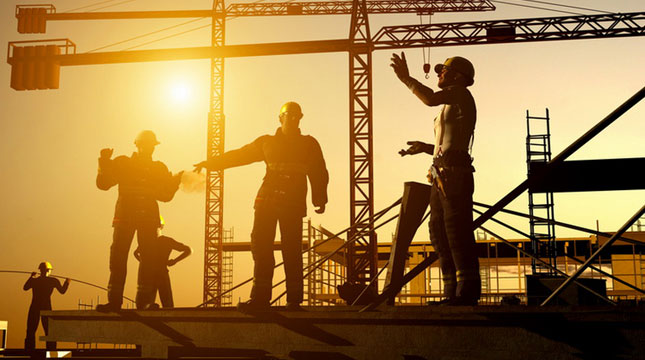 Ilustrasi Pembangunan Infrastruktur (Ist)
INDUSTRY.co.id - Jakarta, the Government is studying to utilize charitable funds from the world's philanthropists to increase infrastructure funding. There are currently about US $ 12 trillion of blended finance funds in the world and not yet channeled.
The government's ambition to accelerate infrastructure development is hampered by funding problems. How not, the government currently has 245 National Strategic Projects (PSN) that is being done at a cost of up to Rp 4.197 trillion.
The PSN increased by 20 projects from the previous year which was only 225. All of them are targeted to be completed by 2019.
To meet the needs of these funds, it is impossible to rely only on the State Budget of Rp 401 trillion this year. While in 2018, the government only allocates infrastructure budget of Rp 409 trillion.
It is true that both private and state-owned enterprises (BUMN) participation will contribute to infrastructure financing, but the amount is considered insufficient.
To meet the funding needs of infrastructure development until the term of office of this regime ends. The government also racked his brain to look for other sources of funding. One of them utilizes the pilgrimage fund estimated to reach Rp 100 trillion by the end of 2017.
The plan received a positive response from the Indonesian Ulema Council which immediately issued a fatwa related to the development of infrastructure using investment funds of prospective pilgrims. But this does not diminish the growing controversy in society, which some may accept and not least resists.
But regardless of the controversy the government seems to be firm on its decision.
After rolling out the haj funds, the government now has a new plan to utilize blended finance from philanthropic and multilateral institutions that mobilize private capital for long-term investments.
This discourse was first expressed by the Coordinating Minister for the Ministry of Marine Affairs, Luhut Binsar Panjaitan. According to Luhut, there are currently about US $ 12 trillion of blended finance funds in the world and not yet channeled.
"They are looking for this place for money so we can make this shelter," said Luhut at the Presidential Staff Office, Jakarta some time ago.
Luhut said, Indonesia has the potential to get this funding. Unfortunately, Indonesia does not have a clear model to be able to receive blended finance funding.
The government needs to consider projects that can be categorized as blended finance. In addition, the return on investment of the project also needs to be studied until it is clear.
"The important thing is the return is clear," said Luhut.
Based on Luhut exposure, there are several potential projects that can be through the blended finance funding scheme. These projects, such as plastic waste management at sea, blue carbon initiative and protection of Indonesian marine conservation areas, sustainable fisheries and aquaculture, digital technology innovations for fishermen.
Then, affordable housing for fishermen, as well as infrastructure projects for coastal community resilience and climate change adaptation.
"The LRT project, he's with government guarantee, could be, so the burden of the state budget can be less," he added.
The solution launched by Luhut received positive response from Finance Minister Sri Mulyani Indrawati. He said the funds from philanthropists could be used by the Indonesian government to finance infrastructure projects. However, the philanthropists said Sri Mulyani is only interested in investing in social infrastructure projects.
"Each of the philanthropists who want to get in on health issues. There may be infrastructure, but related to climate change. It could be accommodated," he said in Jakarta, some time ago.
Minister of Finance again explained that the funding of government infrastructure is currently not only sourced from the state budget, but also cooperation with other stakeholders such as state-owned companies, as well as the private sector.
Although the Finance Minister is interested in using charitable funds from philanthropists for infrastructure financing, he thinks it will be reviewed first. The review will cover how funding schemes use charitable funds.
"If the structure, we will discuss it again yes," he said.
Apart from the Minister of Finance, the discourse-related support also came from Indef Bhima Yudhistira Economist. According to him funding from the world's benefactors could be the answer to the deadlock of national infrastructure funding. Especially for projects that are long-term, and relatively stable.
But Bhima also reminded that not all infrastructure projects can be offered, because philanthropy funds usually have a humanitarian mission in providing funds. He cited, for example, irrigation projects, the construction of hospitals, or the education sector is usually often ogled these philanthropic funds.
Therefore, if the plan is serious, Bhima suggests the government to immediately arrange an attractive project offer for the philanthropy fund.
"Because philanthropy fund usually chooses projects with big social impact such as irrigation, compared to building commercial projects such as toll roads," he continued.
Bhima again exemplifies how African nations counted successfully using this type of infrastructure financing scheme.
In Africa, he said, the development of irrigation, bridges and waste management has been using social funds from developed countries.
"Its governance is similar to ordinary investment, but the projects offered are usually synergized with the mission of the philanthropy fund," he added.
PUPR achievement
Meanwhile, within three years of the administration of President Joko Widodo and Vice President Jusuf Kalla (Jokowi-JK), the Ministry of Public Works and Public Housing claimed to have built a road along the 2,623 km or has exceeded the 2600 km target as set forth in the National Medium Term Development Plan (RPJMN) 2015-2019 and the Strategic Plan of the Ministry of PUPR.

The new road is mostly done in eastern Indonesia such as in Trans Kalimantan, Trans Papua, border roads in Papua, Kalimantan and NTT. One of them is the development of the Border Road of Kalimantan with a length reaching 1,921 km targeted a total through 2019.
It has now been successfully penetrated by the Ministry of PUPR along with TNI Zeni along 1,588 km.
As for the target of bridge construction along 29,859 m, has been built until October 2017 along 25.149 m.
Related to the toll road development target (2015-2019) along 1,000 km, by the end of 2017 will be completed along the 568 km. However, the PUPR Ministry is optimistic that by 2019, toll roads that can be completed can reach 1,851 km.
To support food and water security, within three years of Jokowi - JK's administration, PUPR claimed to have built 65 dams in various parts of Indonesia consisting of 49 new dams and 16 further dams which will increase Indonesia's water reserves by 19.1 billion m3.

The dam construction is considered vital to meet the needs of irrigation water, raw water, flood control, power generation in 2017 has been under construction as many as 39 dams, of which 30 dams are dams that were built since late 2015.
As for the dam that has been completed up to now are 7 dams that Damui Rajui, Jatigede, Bajulmati, Nipah, Titab, Paya Seunara, and Teritib.
In 2017 it is targeted to add two more dams, namely Raknamo Dam in NTT and Tanju in NTB.