From 7200 MW, Government Target, New 1,643 MW Installed
By : Aldo Bella Putra | Wednesday, July 26 2017 - 15:44 IWST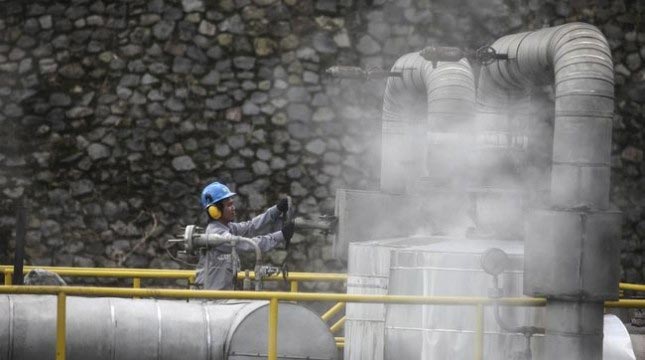 5166
INDUSTRY.co.id - Jakarta, Director General of Renewable Energy and Energy Conservation (EBTKE) The Ministry of Energy and Mineral Resources, Rida Mulyana, today officially opened "Geothermal Community Luncheon" in Jakarta This is the official agenda of the Indonesian Geothermal Association (API) as a forum where stakeholders can gather with the government, An electric development company, as well as the launch of The 5th Indonesia International Gheotermal Convention and Exhibition (IIGCE) 2017.
The greatest appreciation is delivered by Rida Mulyana to the API which again held IIGCE 2017. With the holding of IIGCE event proves that geothermal still exist and will keep running as expected by government.
"This activity also supports government policy in the supply of electricity from renewable energy, with target of 7200 MW in year 2025 through PP No.79 year 2014," said Mulyana rida at Hotel Aryaduta, Jakarta (18/05/2017).
According to Rida, currently total geothermal capacity is installed at 1,643.5 MW, meaning there is still a shortage of approximately 5,700 MW which needs to be developed within 10 years.
"Through this event, it is expected that the synergy between all stakeholders in order to achieve the target that has been proclaimed by the government can be achieved," he explained.
On the other hand, Chairman of the API, Abadi Poernomo said, this event IIGCE 2017 theme is 'Moving Forward under the Challenges, Current Barriers, and Toward the Achievement of the Target of Development of Geothermal 2025'.
"The selection of this theme is considered appropriate by looking at the economic situation and the current policies and regulations," explained Abadi.
Currently, challenges and obstacles still exist and must be faced by developers so that strategic thinking is needed by reducing costs at all stages of mulain activities from surveys, exploration, drilling to power plant development stages to produce affordable tariffs by the government.
"It is necessary to move forward in facing these challenges and obstacles, but the opportunities to develop geothermal are still there and wide open," concluded Abadi.