Officially Operate, PLTP Karaha Illuminates 33 Thousand Homes in Tasikmalaya
By : Ahmad Fadli Dan Aldo Bella Putra | Tuesday, May 01 2018 - 17:30 IWST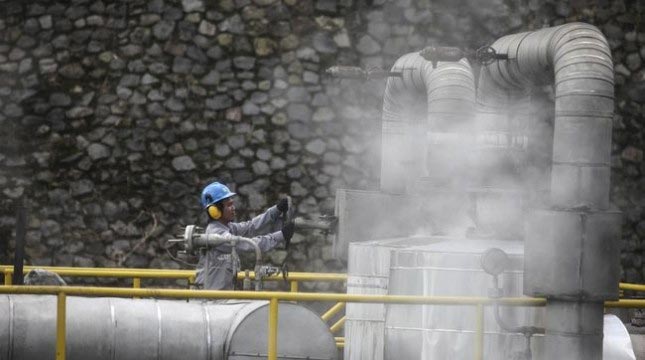 Kementerian Energi dan Sumber Daya Mineral (ESDM) mendorong penambahan kapasitas Pembangkit Listrik Tenaga Panas Bumi (PLTP) sebesar 255 Megawatt (MW) di tahun depan. (ANTARA FOTO/Muhammad Adimaja).
INDUSTRY.co.id - Jakarta - Geothermal Power Plant (PLTP) Karaha Unit I owned by PT Pertamina Geothermal Energy (PGE) with capacity 30MW has officially operated commercially.
The production of PLTP Karaha Unit I will illuminate 33,000 houses in Tasikmalaya and surrounding areas, said Pertamina Geothermal Energy (PGE) Corporate Secretary Tafif Azimudin through a written statement received on Tuesday, May 1, 2018.
This achievement is the realization of the government's proposed 35,000MW program, which will improve the reliability of the Java-Bali transmission system with an additional 227 gigawatt hour (GWh) of electricity per year, Tafif said.
The total investment of Karaha Unit I PLTP is approaching 200 million US dollars, covering drilling, piping, power plant development and transmission line until the date of commercial operation.
During the development of this PLTP project, PGE drilled as many as 10 wells, including injection wells and monitoring wells. In its development, PLarah Karaha Unit I is the most complete project which PGE works on its own from sub-surface, exploration, piping, powerplant to 25 kM power transmission tower.
The construction of the Karaha PLTP project also provides immediate benefits to communities surrounding projects realized in the Community Development program, PGE Corporate Secretary said.
By 2017 PGE Area Karaha has realized Community Development cost of Rp830,000,000 for education, social, health and economic empowerment of local communities.
As a form of community economic empowerment, PGE is currently developing local coffee farmers independence from quality coffee seedlings, training, to other coffee business benchmarks that have already succeeded in developing the business.
In addition to contributing to community development, PLTP Karaha also contributes greatly to the Local Income Revenue (PAD) through the deposit of Production Bonus directly to the Regional Public Cash. In its development, PLTP Karaha also utilize clean energy and environmentally friendly. Utilization will reduce greenhouse gas emissions by 202 thousand tons CO2 / year.
With the operation of PGE's Karaha PLTP, the total installed capacity of PGE is 617 MW, consisting of Kamojang - West Java 235 MW, Lahendong - North Sulawesi 120 MW, Ulubelu - Lampung 220 MW, Sibayak - North Sumatra 12 MW and Karaha - West Java 30 MW, Tafif said.