PGE Ulubelu Lampung Well Production Test 18.9
By : Hariyanto And Aldo Bella Putra | Sunday, July 29 2018 - 19:00 IWST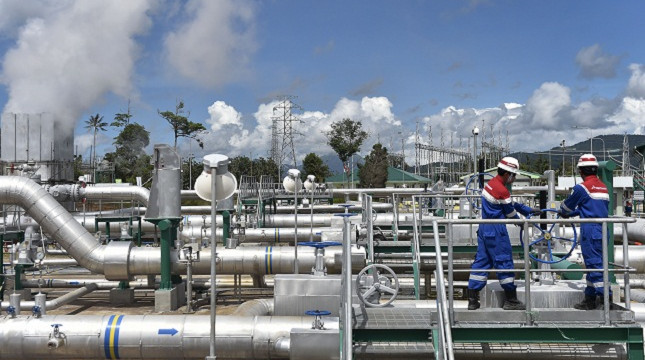 Ilustrasi Energi Geothermal (ANTARA/Puspa Perwitasari)
INDUSTRY.co.id - Jakarta- PT Pertamina Geothermal Energy (PGE) Ulubelu Area, Lampung, successfully conducted a well production test with a capacity of 18.9 MW.
The well, which was drilled on 04 November 2017 and completed on January 8, 2018, has a final depth of 2212 MKU (meter depth measurement).
General Manager of PGE Area Ulubelu Dirgo Rahayu in a written statement received by Antara in Jakarta on Saturday stated that the successful production test is expected to increase the continuity of electricity generation from geothermal energy in Lampung.
To date, PGE has an installed capacity of 220 MW or 25 percent of electricity in Lampung. "This is a pride of the best technicians owned by the country, has succeeded in drilling wells up to the production test, the more wells being drilled and produced, the faster the electrification ratio and the strengthening of the electricity network in Lampung - South Sumatra," he said.
According to Dirgo, the successfully tested well is UBL-51 / J1 which is a well of makeup to maintain the availability of steam supply to PLTP in Ulubelu Geothermal Area. The UBL-51 / J1 well was tested on February 8, 2018 using a flat-pressure lip-test method with the aim of knowing the potential of electrical energy that the well can generate at a truly stable condition.
From the production test it is known that UBL-51 / J1 well has a capacity of 18.9 MW. After successful drilling and production testing, PGE Area Ulubelu has also successfully drilled the next well, UBL-52 / J2 on June 24, 2018 with a depth of 2101 MKU (meter depth measurement).
"From the results of P and T measurements, the condition of J2 measurement results resembles J1, but the potential of the well can only be known for certain after the production test, J2 well has not been tested because the drilling team and PT PGE operation are carrying out the drilling of the J3 well has been taxed since July 12, 2018, "said Dirgo.