Germany Advises Indonesia to Avoid Nuclear and Maximize Geothermal
By : Aldo Bella Putra | Wednesday, July 26 2017 - 16:46 IWST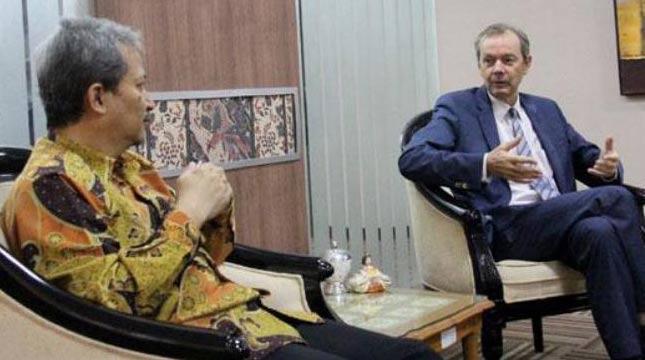 5166
INDUSTRY.co.id - Surabaya - German Ambassador to Indonesia Michael Freiherr von Ungern-Sternberg advises Indonesia not to develop new nuclear renewable energy. Because in Indonesia, there are many other potential that can be processed.
"There are a lot of roads that can be done to make renewable energy other than nuclear energy," said Ambassador Michael Freiherr von Ungern-Sternberg, during a visit at the Institute of Technology Sepuluh Nopember (ITS) Surabaya, Friday (9/6/2017).
He said the Indonesian government should consider more aspects of the benefits and losses due to the impact that will arise when a failure, such as events in Fukushima due to failure of its development. It can change many aspects such as the existence of medical risks and accidents.
"Germany indeed had time to consider the use of nuclear as renewable energy, but see Fukushima events that have a very big impact due to the failure of nuclear energy. Germany became worried. So made a political decision to dismiss nuclear use as a renewable energy," said Michael.
The man who also served as Ambassador of Germany to Iran this, said the statement in a discussion with the leaders and researchers from the local campus, in the room rectorate ITS.
In addition, in his visit to the new campus to carry the status of state-owned universities (PTN-BH), also discussed a number of research cooperation projects that have been established with several universities in Germany.
"People often say too much impact, and it takes a lot of time to repair a country due to nuclear failure," Michael continued.
As is known, that Indonesia alone has 40 percent of the world's geothermal potential and is the third largest geothermal power producer in the world after the United States and the Philippines. "This is a huge potential that can be further developed as a renewable energy source because nuclear-based EBT can change many aspects, plus medical risks and accidents," he said.
Meanwhile, Dr. Ing Wolfgang Busse, as representative of Wismar University in Surabaya, revealed that he is currently conducting a research collaboration with ITS to empower the potential of remote islands in Indonesia under a project called Sustainable Island Development Initiatives (SIDI).
"Currently we have targeted for research project is Poteran Island in Madura and Maratua Island, East Kalimantan," he explained.
Prof Dr Ketut Buda Artana ST MSc, ITS Vice Rector for Research, Innovation and Cooperation, added that Poteran Island was developed to empower natural resources in the form of leaf of kelor that can be extracted as medicine or other needs, and Maratua Island will be developed its potential as a destination Marine tourism for both domestic and foreign tourists.
"In the future, the research for the development of EBT potential will be aimed to Natuna Island, Riau Islands and the development plan will be discussed further with the Ministry of Foreign Affairs," explained Prof Ketut.
He hopes, from the results of cooperation developed by ITS with Wismar University and the German government in the future can provide many benefits to the people and the nation of Indonesia.