People Must Be Alert of the Impact of New Tropical Cyclone Seeds
By : Herry Barus And Aldo Bella Putra | Saturday, December 02 2017 - 22:00 IWST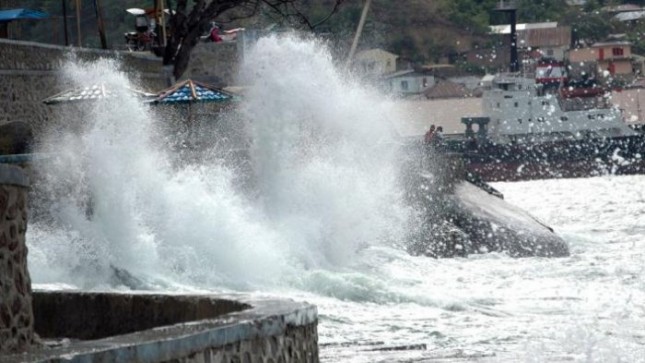 Ilustrasi gelombang tinggi (Foto Ist)
INDUSTRY.co.id - Jakarta- Meteorology, Climatology and Geophysics Agency (BMKG) asked the public to be wary of extreme weather conditions which is the potential impact of two new tropical cyclone seedlings.
"On December 1, 2017, BMKG monitor Tropical Cyclone Dahlia, Tropical Cyclone 93W and Tropical Cyclone 97S," said Head of BMKG Prof. Dwikora Karnawati in a written statement in Jakarta yesterday.
Diwikora Karnawati revealed that 93 W tropical cyclone seedlings were observed in the Andaman Sea north of Aceh, with a maximum speed of 56 kilometers per hour.
The 93W cyclone is moving eastward away from Indonesia and its intensity is expected to be stable.
The impact of 93W seeds is a moderate-intensity rainfall in the northern part of Aceh, strong winds of up to 37 kilometers per hour in Aceh and the northern Malacca Straits and 2.5-4 meters in Lhoksumawe waters, waters of Sabang, waters north and west of Aceh.
While 97S tropical cyclone seedlings observed in the Indian Ocean south of Nusa Tenggara TImur, with a maximum wind speed of 28 kilometer per hour.
Cyclone 97S moves to the southwest and away from Indonesia, and is expected to experience an increase in intensity within the next 24 hours.
The impact of the 97S seeds is a moderate-intensity rain in Nusat Tenggara Timur, and the waves are 2.5-4 meters in the western waters of Lampung, Bali Strait, Lombok Strait, southern Alas Strait, southern Sunda Strait, and southern waters of East Java to Lombok.
While the tropical cyclone Dahilai is in the Indian Ocean south of Central Java with a maximum wind speed of 95 kilometers per hour, moving east-southeast away from Indonesia.
The impact of tropical cyclones Dahlia in the form of moderate to heavy rain in Banten, Jabar, Central Java, Yogyakarta, East Java, and Bali, as well as strong winds to more than 37 kilometers per hour in these areas.
Another impact of Dahlia is the wave of 2.5-4 meters in the western waters of the Mentawai Islands to Bengkulu, Central Java Sea, northern waters of Central Java, then a wave of four-six meters in the waters south of Banten to Central Java, and a wave of six-seven meters in Samudear South Indies Central Java to East Java.
In general, masyarkaat appealed to be aware of potential puddles, flood mupaun landslides for those living in areas with heavy rainfall, especially in areas prone to floods and landslides.
People are also urged to be alert to the possibility of rain accompanied by winds that can cause fallen trees or billboards to collapse, do not shelter under trees if the rain accompanied by lightning / lightning.
In addition, it is also advised to be aware of high waves, heavy rains accompanied by strong winds that are harmful to small vessels, and delaying traditional fishing activities until high waves subside.