Success Story Ir. Ciputra Building a Property Business Empire Without Capital
By : Ahmad Fadli And Aldi Firhand. A | Saturday, December 02 2017 - 19:31 IWST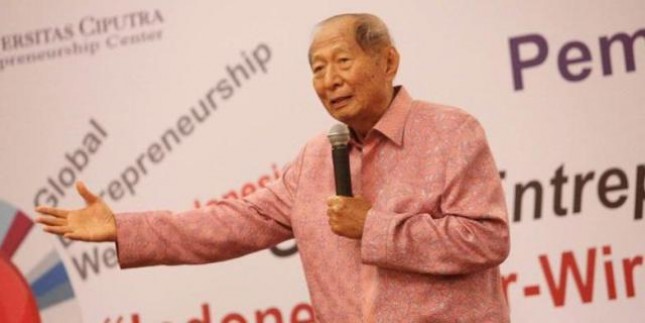 Ir. Ciputra Founder Ciputra Group
INDUSTRY.co.id - Jakarta - Who does not know the figure of Ir Ciputra, or commonly called Pak Ci? The figure behind the success of a large property group in the country. In a recent CEO Forum 2017 event, he recalled flashbacks when starting his property business.
The pioneer of real estate Indonesia is admitted to start his business without capital alias only rely on credit to the banks. Again and again Ciputra meet the Governor of DKI Jakarta Soemarno and offer the concept of real estate to build the city of Jakarta.
"I ask for credit to the Governor of DKI and I went many times then I borrow Rp7 billion," he said. Persistence Ciputra is to fruition by conjuring a swamp land into a recreation center known as the Ancol Dreamland Jaya.
In borrowing capital and attracting investors, Ciputra claims to offer honesty. The capital used to build a project will not be used for other projects.
"I dare to borrow money but I only use it for the project and I do not like to play left and right," he said.
According to the man with the real name of Tjie Tjin Hoan, integrity becomes one of the keys to successful entrepreneurship. Even the concept also applied to the entire board of directors and employees of Ciputra Group.
Until now Ciputra claims there is no board of directors or managers who do corruption of 130 property projects at home and abroad are working on his company.
"You have to work honestly, integrity is important to the entrepreneur, every word is a promise and a promise is a debt, until now there is no ranks of us corruption," he claims.
In addition to upholding integrity, Ciputra also implements a simple lifestyle. He promised not to use Mercedes as a private vehicle as long as Ciputra Group managers also use similar brands.
"I do not want to use Mercedes but wear Toyota, unless my manager use Mercedes yes I wear," he said.
As for a number of successful projects developed Ciputra among them housing Springhill Golf Residences, Royale Springhill Apartment, The Boutique Apartment and Office Park Kemayoran.
Then Kedoya Garden Housing, Wesling Apartment, Kembangan Baru Housing, Green Court Residences, CREA Resort Office Bali, Serpong Area, Bintaro, Pondok Indah, Taman Impian Jaya Ancol, Ciputra World II and many other malls.
Meanwhile, Ciputra Group is also developing the Ciputra Hanoi International City project and other international projects such as Grang Shenyang International City in China and Grand Phnom Penh International City in Cambodia.