Tourism Industry Investment Will Be The Largest Foreign Exchange Donor
By : Kormen Barus And Aldo Bella Putra | Sunday, December 03 2017 - 18:00 IWST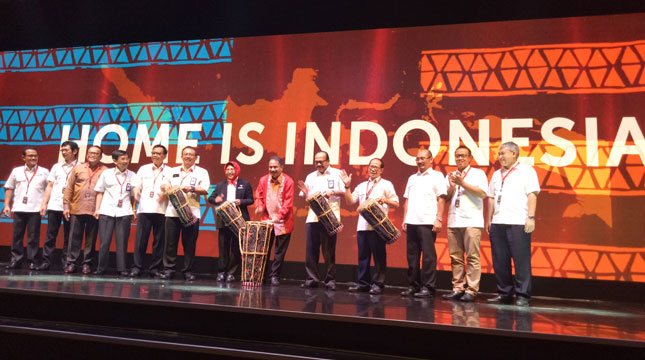 Rapat Koordinasi Nasional (Rakornas) Pariwisata ke II 2017 (Chodijah Febriyani/INDUSTRY.co.id)
INDUSTRY.co.id - Jakarta - The country's foreign exchange earnings from tourism sector since 2016 has outperformed the revenues from oil and gas and under revenues from CPO. The government targets tourism as the main contributor of foreign exchange by 2019.
The World Bank's Practice Manager for Macroeconomics and Fiscal Management in the Southeast Asia Pacific region, Ndiame Diop, as quoted from the BKPM page, expressed his views on tourism investment in Indonesia. According to Diop, government efforts to increase Indonesian investment can be realized through various policies that are not only for upstream and downstream industries only.
But, investors also feel the presence of new opportunities in the tourism sector. For the government Indonesia's exceptional geographic and natural conditions for tourism should not be wasted, in order to be developed to increase the number of Indonesian investments.
Through investment opportunities in the tourism industry sector, continued Diop, Indonesia has the opportunity to increase its medium-term income. "Indonesia's tourism sector is still very wide open to bring in foreign investment. But keep in mind, better infrastructure should be prepared to support investment growth in this sector, "he said.
The government's efforts are indeed a proud result. Investment in the world of tourism continues to rise from year to year. The Investment Coordinating Board noted that tourism investment in the first semester of 2017 reached 929.14 million US dollars (Rp12.4 trillion) or 3.67 percent of the total national investment.
This value grew 37 percent from the realization of tourism investment in the first half of 2016. Even the value of such investment is much greater than the value of investments in 201 which amounted to 602 million US dollars or contribute 1.45 percent of the total national investment.
Indeed, in recent years, the government is so vigorous in the development of the tourism sector. Especially with the support of thousands of tourist destinations, projected tourism sector will become the largest foreign exchange contributor in 2019. In 2015, for example, the tourism sector contributed foreign exchange of US $ 12.225.
This figure makes tourism the fourth largest contributor of foreign exchange under oil and gas (US $ 18.574 billion), CPO (US $ 16.427 billion), and coal (US $ 14.717 billion).
While in 2016, the contribution of foreign exchange of tourism jumped to US $ 13.568 billion. This figure makes tourism the second largest contributor of foreign exchange after the palm oil industry (CPO), which contributed US $ 15.965 billion.
Tourism Minister Arief Yahya, said the country's foreign exchange earnings from the tourism sector since 2016 has beaten the revenue from oil and gas and under revenue from CPO.
"Therefore, the government then targets tourism as the main contributor of foreign exchange by 2019. The target is, in 2019, tourism will contribute US $ 24 billion," he said.
The pride is, the media company in the UK The Telegraph noted Indonesia as being one of the 20 countries with the fastest growing tourism. They even assess the growth of Indonesian tourism four times higher than regional and global growth. The data indeed prove the claim.
Indonesia's tourism growth in recent years reached 25.68 percent, while the industry in the ASEAN region grew only 7 percent and in the world only 6 percent.
Not only that, Indonesia Tourism Competitiveness Index according to World Economy Forum (WEF) also shows encouraging development. According to them, Indonesia's ranking rose 8 points from 50 in 2015 to rank 42 in 2017.
The increasing contribution of foreign exchange from the tourism sector, of course, because the number of tourists continues to soar. By 2015, the number of tourists totals 10 million people.
The number increased to 12 million people in 2016. The addition of tourists adds to the country's foreign exchange earnings from US $ 12.336 billion to US $ 12.44 billion.
While in the first half of 2017 recorded the number of foreign travelers has touched the number 7.8 million people. The government is targeting 20 million tourists will visit Indonesia in 2019.
To meet the target of foreign exchange earnings and 20 million tourists by 2019, the government has developed 10 priority tourist destinations, namely Tanjung Kelayang, Tanjung Lesung, Mandalika, Morotai, Borobudur, Lake Toba, Thousand Islands, Bromo Tengger Semeru, Wakatobi and Labuan Bajo.
The 10 priority destinations complement 10 other developing destinations, such as Wakatobi, Raja Ampat, Bunaken, Bali, Jakarta, Riau Islands, Banyuwangi, Bandung, Yogyakarta, Solo and Semarang.
Sharpen the Strategy
Deputy BP3M Prof. I Gde Pitana said, the number of foreign tourists visiting Indonesia in January to August 2017 cumulatively reached 9,403,614 foreign tourists or grew 25.68%. This growth is four times the growth (growth) of world tourism recorded 6%, as well as the growth of ASEAN regional tourism by 6%.
"Seeing the acquisition of foreign tourists in the last two months above 1.3 million per month we are optimistic that the end of December 2017 target of 15 million foreign tourists will be exceeded. Hopefully in the next 4 months the condition is running normally there is no force majeure, "said I Gde Pitana.
I Gde Pitana explains, in the next four months (September-December) 2017 should pursue an additional 5.75 million foreign tourists, for this it will sharpen the strategy of promotion and marketing.
Promotion strategy using DOT scheme (Destination, Origination, and Timeline) in the next 4 months will be more focus on the nearest market (short haul) especially for the origination of foreign tourists from China, Singapore, Malaysia, Australia and Japan as the biggest contributor of foreign tourists for Indonesia.
Meanwhile, destinations prepared to capture foreign tourists from this main (origination) market namely; Great Jakarta; Great Bali; Great Kepri; Joglosemar (Yogyakarta Solo, and Semarang); Bunaken - Wakatobi Raja Ampat, Medan, Lombok, Makassar, Bandung, and Banyuwangi.
Promotional strategy with BAS (Branding, Advertising, and Selling) pattern, according to Pitana, this year will be more direct selling and supported by advertising with online media. For example, recently Kemenpar with 15 business players (sellers) from the country to do sales mission in three major cities of Thailand (Phuket, Chiang Mai and Bangkok) as an effort to boost the visit of foreign tourists to Thailand this year is targeted at 135,000 foreign tourists.
Participate in the exhibition of MATTA Fair 2017 tourism exchanges in Johor Baru (August) and Kuala Lumpur (September) as an effort to attract as many foreign tourists (tourists) from Malaysia who this year ditongkankan 1. 772.000 foreign tourists.
To increase foreign tourists from the Australian market this year is targeted at 1.8 million foreign tourists, sales mission also held in two major cities namely; Sydney and Brisbane in June-July 2017 ago by inviting tourism industry actors from Bali and Lombok as a favorite destination of Australian tourists.
Meanwhile, to increase the visits of foreign tourists from the Great China Market (China, Hong Kong, and Taiwan) Kemenpar conducts sales missions in major cities of foreign tourists in China and participates in international exhibitions or exchanges there such as; CITM, Hong Kong's DRT, and TITF.
"To support direct selling activities in China we do advertising in cooperation with the largest online media in China, among others Baidu, Qunar, and Xinhua," said Pitana.