APVI Requests Imposition of Electric Cigarette Excise Tariff 15%
By : Ahmad Fadli And Aldi Firhand. A | Monday, December 04 2017 - 10:32 IWST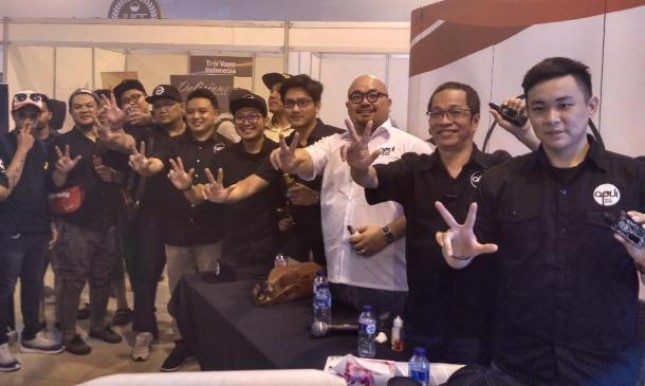 The Association of Personal Vaporizer Indonesia (APVI) requested the government to impose the tariff of electric (liquid) cigarette / electric vape by 10 to 15 percent starting July 1, 2018
INDUSTRY.co.id - Jakarta - The Association of Personal Vaporizer Indonesia (APVI) asked the government to impose tariffs on liquid (liquid) cigarettes of electric / vape at 10 to 15 percent starting July 1, 2018. They assume 57 percent of the tax is very burdensome.
"The figure of 10 to 15 percent may still be acceptable, given the age of the industry is still young and need support, so the industry can keep growing well and not a risk of industrial continuity," said Chairman of the Association of Personal Vaporizer Indonesia (APVI) Aryo Adrianto in Jakarta event Vape Project, Sunday (3/12/2017).
In terms of health, they also explain that there is in the results of research stated by Public Health of England (PHE) which states that 95% Vape safer and healthier than cigarette burned. Vape that contains excessive nicotine in the body, the rest will be removed from the body through urine and sweat.
The assumption that liquid vape contains harmful chemicals, is also a mistake. Liquid vaping made with basic ingredients Propelyne Glycol (PG) majority of medicinal ingredients and food consumed daily / food grade and Vegetable Glycerin (VG) made of palm oil base.
"The flavors that vape uses are essences or flavors made from fruit extracts and the natural produce of our plantations. Call it potato, eggplant, sunflower, tobacco and others, "he said
It will also take firm action if there are members of Vape who got used drugs. "We ourselves will report to the police and BNN if there is known to be a liquid made from drugs. And we broke up to stock the network, "he said
Meanwhile, Head of Public Relations APVI Romedal said, in terms of financial vape will be a creative industry that supports the plantation of all lines. The estimated number of vape merchants in Indonesia reached 3,500 sellers.
"3500 if we assume have 3 workers each course then it has made 10,000 new jobs. In addition, this liquid sales trigger the potential of Indonesia's turnover reaches 4-5 trillion per year, "he said