Interesting House Option For Young Couples
By : Ahmad Fadli And Aldi Firhand. A | Tuesday, December 12 2017 - 09:07 IWST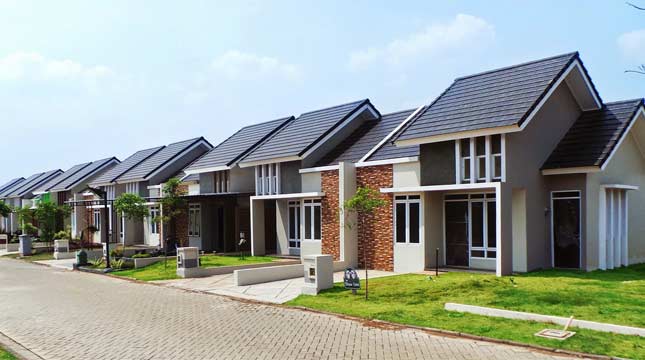 Residence Illustration
INDUSTRY.co.id - Jakarta - Owning a home is a dream for everyone. No exception to the newly married young couple. By having their own dwelling, the young couple will be able to live more comfortable and able to manage their own household life.
Some time ago Lamudi team had done a survey about the dream house of young couples. From the results of the survey mentioned 62% percent of young couples want to live in homes that have good accessibility and are surrounded by public transportation.
The majority of young couples do not want to buy a house with a large size, the majority of them or about 55% want to have a small house size purpose so they are not too busy to clean it.
Interestingly the majority of young couples also do not mind to live in buffer zones of the capital, they are aware to buy houses in the center of Jakarta is very expensive. The price range the couple wants to buy ranges from Rp 300 million to Rp 500 million.
Well, for those of you who are young couples who are currently looking for a home, here are some residential options that are suitable for young couples:
Podomoro Golf View
Podomoro Golf View is an apartment built by developer Agung Podomoro Land. This project is actually built with the concept of superblock in Cimanggis. This residence is suitable for young couples because in addition to the price is sold quite cheap that Rp 190 million vertical housing has excellent access that is close to the Cimanggis Toll and complete facilities.
Paradise Serpong City
Paradise Serpong City is residential located in Serpong, this residence is perfect for young couples because of its location is very strategic. This residence is in the sunrise property of Serpong. The Location adjacent to the Toll Gate Jakarta - BSD, close to BSD, close to Aeon Mall. One unit house there sold starting from Rp 500 million.
Vida Bekasi
In Bekasi there is a housing that can be one of the interesting options for young couples, named Vida, this housing is built with the concept of go green where residents are invited also to care for the environment by making a place of recycling garbage, there is also provided a vast park for its inhabitants . House prices are sold from Rp 500 million.
Bintaro Jaya
If you want to find a residential area in South Tangerang, Bintaro Jaya housing, can be an interesting choice. The 2000 hectare self-contained area has a full range of public facilities such as educational facilities, hospitals, shophouses, entertainment, shopping centers and others. If you are interested, one unit of house there sold starting from Rp 500 million
Darmawangsa Residence
This housing is located in Tambun, Bekasi, there on this 100 hectare land, built Darmawangsa Residence housing. House prices at Darmawangsa Residence are sold quite cheap, ranging from Rp 320 million, the facilities in this housing is quite complete ie 24 hour security system, water splash, sport club, supermarket, carport and one gate system.
The Villas Serpong
This residence is located on Jamat Road, Buaran, Serpong, South Tangerang, where this building is built adjacent to BSD Toll Gate, Bintaro and is just 20 minutes to Buntu Rawa Station, Serpong. The price of this house is sold starting from Rp 500 million.
Green Lake View Apartment
For young couples who want to find apartments at affordable prices may be able to directly select the apartment Green Lake View, apartments there sold Rp 260 million. This apartment is built at Jalan Dewi Sartika No. 28, Ciputat, South Tangerang.
Banjar Wijaya
Banjar Wijaya is located in Cipondoh, Tangerang. This residence is built with modern minimalist concept. This residential location is near the Alam Sutera Toll Gate, the housing has CCTV facilities, sports club, swimming pool and others.