Setya Novanto Accused of Receiving More 7.3 Million Dollars
By : Herry Barus And Aldo Bella Putra | Wednesday, December 13 2017 - 23:00 IWST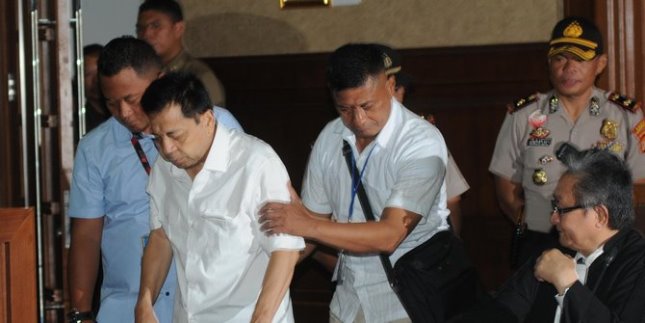 Ketua DPR RI Setya Novanto (Foto Rizki Meirino)
INDUSTRY.co.id - Jakarta - Former Speaker of the House Setya Novanto was charged with a profit of 7.3 million US dollars and Richard Mille watches worth 135 thousand dollars from an Electronic ID card project.
"So the money received by Defendant Setya Novanto either through Irvanto Hendra Pambudi Cahyo and Made Oka Masagung amounted to 7.3 million US dollars," said Prosecutor General Prosecutor (Eva Yustisiana KPK) at the Corruption Court (Tipikor) Jakarta, Wednesday (13 / 12/2017)
The money is sourced from Johannes Marliem who is the President Director of PT Biomorf Lone Indonesia as the provider of Autocated Fingerprint Identification System (AFIS) L1 and Anang Sugiana Sudiharsa as President Director of PT Quadra Solutions as a member of the PNRI consortium as the winner of the procurement of ID card.
"Johannes Marliem and Anang Sugiana sent money to the defendant by first disguising them using several account numbers and money-changers both at home and abroad with details," added prosecutor Eva.
The details are: 1. Received Setnov through Made Oka Masagung (Setnov's associate and also OEM owner of Investmen Pte.LTd and Delta Energy Pte.Lte located in Singapore) totaling 3.8 million US dollars through OCBC Center branch account on behalf of OEM Investmen Pte Ltd. amounting to US $ 1.8 million and through Delta Energy Pte Ltd account at DBS Singapore bank of 2 million US dollars 2. Received Setnov through Irvanto Hendra Pambudi Cahyo (nephew) from 19 January to February 2012 totaling 3.5 million US dollars "After receiving the money around November 2012, the defendant also received a gift of 1 hour Richard Mille series RM 011 for 135 thousand US dollars bought Andi Agustinus with Johannes Marliem as part of compensation because the defendant has helped smooth the budgeting process," added the prosecutor Eva.
The "fee" grant was initiated in June 2010 when Andi Agustinus alias Andi Narogong, who also had proximity to Setnov, met at the Pandor Café with Johannes Marliem, Vidi Gunawan (Andi Agustinus's sister), Irvanto Hendra Pambudi Cahyo and Mudji Rahmat Kurniawa .
In the meeting, Andi conveyed information from the Director General of Population and Civil Registration of the Ministry of Home Affairs Irman that the 2011-2012 ID card budget is only Rp1 trillion while the need is Rp2.6 trillion. Next Irman asked for help to Andi Agustinus to deliver it to Setnov.
"At the time Andi Agustinus conveyed the matter to the defendant, Andi Agustinus also conveyed that the prospective participants proyke KTP-E is willing to first provide a fee of 5 percent of the requested DPR, the defendant agreed even if not met the defendant will not want to help take care of his budget the defendant also invited Johannes Marliem to meet Diah Anggraeni, Chairuman Harahap (Chairman of Commission II of the Golkar Party faction) and the Budget Coordinator of the House of Representatives, "added prosecutor Eva.
In October 2010, Andi Agustinus, together with Johannes Marliem, met with Secretary General of the Ministry of Home Affairs Diah Anggraini, Irman, Sugiharto, head of the technical team of KTP-E Husni Fahmi, Chairuman Harahap and Johannes Marliem at Restaurant Peacock Hotel Sultan.
During the meeting Diah asked Chairuman as the chairman of Commission II of the House to immediately approve the budget for the implementation of ID card-E in "multiyears" with "grand design" amounting to Rp5, 952 trillion.
"During the budget deliberation process, the defendant provided information on the development of the budget discussion to Andi Agustinus," added prosecutor Ahmad Burhanuddin.
In addition to trying to win a consortium of PNRI, Andi Agustinus also met with Paul Tannos, Anang Sugiana Sudihardjo, Johannes Marliem, and Isnu Edhi Widjaya. In the meeting it was agreed "fee" to be given to Setnov approximately 5 percent and agreed on the fee sharing scheme to some members of the House and Ministry of Home Affairs officials whose details are: a. PT Sandipala Artha Putra is responsible for providing a fee to Gamawan Fauzi through Asmin Aulia for 5 percent of the value of the work earned.
b. PT Quadra Solution is responsible to give Setya Novanto a fee of 5 percent of the amount of work earned.
c. Perum PNRI is responsible to provide a fee to Irman and his staff of 5 percent of the amount of work earned.
d. The net profit of each member of the consortium after deducting the fee is 10 percent. The fee award scheme was reported to Setnov by Irman, Andi, Anang Sudihardjo and Paulus Tannos. On the report, Setya Novanto agreed on June 21, 2011, Minister of Home Affairs Gamawan Fauzi set the PNRI Consortium as the winner of the auction with the offering price Rp5, 84 trillion.
However, in September-October 2011 at Setnov's house, Paulu reported the PNRI consortium did not receive a down payment as a working capital. Paul then asks persujuk and Setnov introduces his person that is Made Oka Masagung who has relationships to many banks.
"The defendant also conveyed a commitment fee which is a quota for defendants and members of the House of Representatives of 5 percent of the value of the project," said the prosecutor as quoted by Antara.
Setnov then asked Andi and Paul to meet again at his home and introduce Made Oka Masagung to Paulus Tannos in order to help with the financial problems of the ID-E project and pass on the "fee" of Setnvo's allowance and the members of the House of Representatives delivered through Made Oka Masagung.
On September 2011, Paul Tannos and Anang Sugiana met Made Oka Masagung at the cafe at Oakwood Apartement Jakarta. At the meeting Paul Tannos delivered a request for help to Made Oka Masagung and was able to offer Paul and Anang to several banks.
In December 2011, Chairuman telephoned Irman to collect an agreed 5 percent fee, then Setnov and Chairuman met with Andi Agustinus and Paulus Tanno in the Equity Tower building where Setnov and Chairuman billed the commitment.
As a follow up, Andi Agustinus, Paul Tannos, Anang Sugiana met at the Pacific Place apartment and subscribed a $ 3.5 million fee for Setnov to be realized by Anang Sugiana and his funds were taken from PT Quadra Solution's payment to Johannes Marliem through the company Biomorf Mauritius and PT Biomorf Lone Indonesia.
"By way of transferring to Made Oka Masagung's account in Singapore and who will hand over to the defendant is Made Oka Masagung, Johan Marliem will send some invoices to Anang Sugiana as a basis for remittance so as if the remittance is a payment of PT Quadra Solution to Biomorf Mauritius or PT Biomorf Lone Indonesia," said prosecutor Ahmad Burhanuddin.
In addition Anang also met with Johannes and Sugiharto to discuss the amount of "fee" to be given to Setnov which is planned to be given a sum of Rp100 billion, but if not possible only will be given a sum of Rp70 billion.
The amount is part of the total state losses worth Rp2, 314 trillion of projects worth Rp5, 9 trillion.
"Defendant Setya Novanto together with Irman, Sugiharto, Andi Agustinus alias Andi Narogong and Anang Sugiana Sudiharjo, Isnu Edhi Wijaya, Irvanto Hendra Pambudi Cahyo, Made Oka Masagung, Diang Angraeni and Drajat Wisnu Setyawan intervened in the process of budgeting and procurement of goods / services package the application of ID card based on the National Identity Number (NIK) nationally (Electronic ID card) that harms the state finance of Rp2.314 trillion," said the prosecutor.
Setnov was charged under Article 2 paragraph (1) or article 3 of Law No. 31 of 1999 as amended by Law No. 20 Year 2001 on Corruption Eradication jo article 55 paragraph (1) to the Criminal Code.
The Article regulates the person who violates the law, misuses the authority, opportunity or facilities in which the position or position may be detrimental to the state's finances and economy and enriches itself, another person or corporation with a maximum imprisonment of 20 years and a maximum fine of Rp 1 billion.