Pertamina Secures Increase in Fuel Consumption by Year End
By : Herry Barus And Aldo Bella Putra | Saturday, December 16 2017 - 19:00 IWST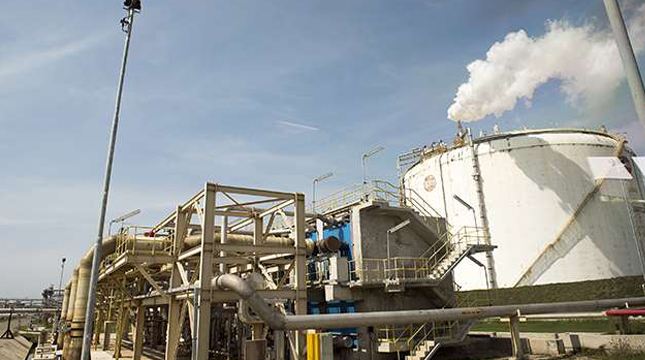 Kilang LNG (Foto: Ist)
INDUSTRY.co.id - Jakarta - PT Pertamina (Persero) is preparing to secure the supply of fuel oil (BBM) and liquefied letroleum gas (LPG) in line with increasing consumption from the community during Christmas and New Year holidays.
By teleconference with the media in Jakarta on Friday (15/12/2017), Pertamina's Marketing Director Muchamad Iskandar estimates that fuel and LPG consumption will increase, among others, premium with 2 percent increase, 12 percent pertalite, pertamax 7 percent, Pertamina Turbo 15 percent , dexlite 10 percent, Pertamina Dex 12 percent, Avtur 11.5 percent and LPG 4 percent.
"As an illustration, the needs of BBM and non-BBM during the Christmas and New Year's task force are oriented from the realization of last year, we will adjust our prediction from the prediction and then increase slightly from the current year," Iskandar said.
He said that in facing the Christmas and New Year holiday season, Pertamina has also formed a taskforce (Satgas) for the safeguarding of fuel and LPG supply duty since December 18, 2017 and January 8, 2018.
According to him, the reverse flow is expected on January 1 and 2, 2018, but Pertamina remains on guard over supply until January 8, 2018.
On the same occasion, SVP Fuel Marketing & Distribution Pertamina Persistent Wahyu Hari Irianto explained normal consumption of Premium as much as 31,971 kiloliters (KL), while in the framework of the task force to 32,610 KL.
Meanwhile, the normal Pertalite of 42,201 KL rose 12 percent to 47,430 KL; Pertamax rose 7 percent from 16,000 KL to 17,156 KL; Solar has decreased 6 percent from 37,019 KL to 33,216 KL.
Dexlite grew 10 percent from 1,154 KL to 1,270 KL; Pertamina Dex is up 12 percent from its normal 502 KL to 562 KL. Kerosene due to the many areas celebrating Christmas, such as in Eastern Indonesia, increased 3 percent from 1,634 KL to 1,683 KL; and Avtur rose 11.5 percent from 14,564 KL to 16,245 KL.
"The decline in diesel consumption is due to operational restrictions on freight transport on H-3 to H + 3 and a decrease in industrial transport activities," said Gigih.
He explained that Pertamina increased stock of BBM, LPG, and Avtur at TBBM, DPPU, and LPG depot level. There is also an increase in stock has started since 1-17 December 2017.
LPG, SVP Non Fuel Marketing Pertamina Basuki Trikora Putra said Pertamina will ensure the supply of LPG safely by alerting 2,528 agents and 23,848 LPG bases throughout Indonesia.
In addition, Pertamina also coordinates with local governments and related agencies if additional supplies are needed through a 3 kg LPG market operation.
"We expect an increase in consumption of up to 4 percent of the normal average, with peak conditions on December 26-30, 2017," said Basuki. (Ant)