Pertamina urges people not to panic to buy LPG
By : Irvan AF And Aldo Bella Putra | Friday, September 15 2017 - 21:00 IWST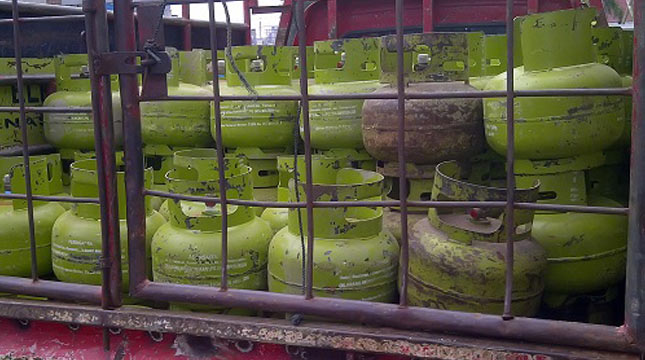 Tabung Gas (ist)
INDUSTRY.co.id - PT Pertamina (Persero) Kalimantan region appealed to people not to panic buying subsidized gas with excess amount because it will only be utilized by speculators who take advantage.
"We hope that the trend of increasing gas consumption in the big days of yesterday, such as welcoming Idul Adha Day is not exaggerated, because it will only trigger 'panic buying' in the field," said Area Manager Communication and Relation of Pertamina Kalimantan, Alicia Irzanova contacted in Ketapang, Friday (15/09/2017).
She mentioned in panic conditions there will be parties who take advantage of the situation that is taking personal advantage. According to her, in practice, it continues to monitor the existing stock in the field and make additions if needed.
Alicia explains it has taken into account the spike in consumption at certain moments like Eid al-Adha.
"Towards and during Idul Adha, we increase the supply of 63,280 tubes in West Kalimantan, with 10,640 tubes of Pontianak, Kubu Raya 8,400 tubes, Singkawang city 3,920 tubes, then Sekadau District 2,800 tubes.
Followed in Bengkayang Regency as many as 2,800 tubes, Melawi 2,240 tubes, Kapuas Hulu 2,240 tubes, Hedge 2 2,240 tubes and Kayong Utara 1660 tubes.
"Therefore, we urge the public does not need to make purchases of excessive subsidized gas because the stock is very safe," she said.
Alicia added that the subsidized gas or three kilogram tube is only for the rightful community, that is, the poor and micro business so that business or commercial sector or middle-class households can give the public the right to allocate it.
For consumers who are not entitled to subsidized gas, Pertamina provides Bright Gas 5.5 kilograms and 12 kilograms. Bright Gas has more advantages than melon gas because it is safer with Spindle Valve System (DSVS) technology, Pertamina's official seal security feature that guarantees gas quality as well as tubular contents, more convenient with messaging service via Pertamina 1 500 000 or email pcc @ pertamina.com, said Alicia.
Pertamina has previously conducted market operations in Sintang and Melawi in meeting the needs of the community, and its impact is directly visible from the decrease in purchase uptake on the second day after the market operation.