President Jokowi: Campus Must Role Central In Development
By : Herry Barus And Aldo Bella Putra | Tuesday, December 19 2017 - 18:03 IWST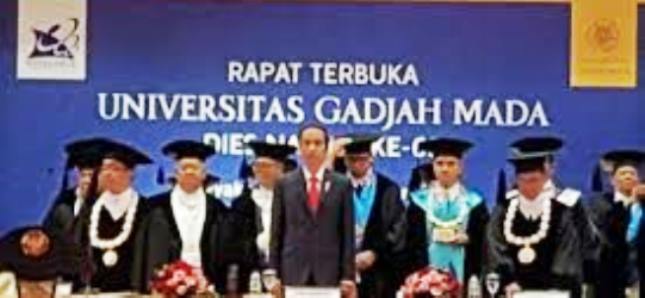 Presiden Jokowi pada acara Diesnatalis UGM (Foto Dok Industry.co.id)
INDUSTRY.co.id - Yogyakarta - President Joko Widodo requested that universities continue to take a central role in national development.
"Until whenever universities will occupy a central role in the development of nation and state, its role is always central, central in creating human resources that are reliable, central in delivering superior research work as well as central in responding to every challenge of the times," said President Joko Widodo while giving lectures general in the framework of the 68th anniversary of the University of Gadjah Mada (UGM) in Yogyakarta, Tuesday (19/12/2017).
President is a graduate of UGM from the Faculty of Forestry force 1980.
"But what we have to be aware of is the ever-changing challenges of the times, the very dynamic of today, the fast-growing science, the robotic information technology, the 'artificial intelligentsia' will greatly affect human life in the future," added the President.
The President considers the newly learned technology is quickly lagging behind as new technologies will emerge again.
"This is a very rapid change, and this development will greatly affect the challenges for higher education, the birth of new technology to make some kind of work lost in the next few days," explained the President.
The President cited the work as a postman who was once very important at this time is not known anymore.
"The teller or cashier may soon be irrelevant and there are many more jobs that are beginning to disappear and are irrelevant," the President said.
The changes also affect business formations, for example, analog cameras are no longer relevant and completely replaced by digital products, supermarket businesses or malls that were once very well established now shrink their dominance as they move from "offline" to "online".
"Travel bureaus that sell tickets are increasingly irrelevant, this has started because of the emergence of 'online ticketing', there are still many old businesses that will disappear and begin to recede and emerging new types of businesses," the President added.
In fact, according to the President, politics and government must also adjust to the development of science and technology.
"With a variety of innovations the government is forced to work quickly, work efficiently, because otherwise the country will be left behind any country and someday the number of administrators will also be reduced due to the many jobs that can already be automated. Changed a lot," said the President, asserted.
The problem of the kind of old jobs that are missing and the kind of new jobs that come up is definitely what the university should respond to.
"When there is a long-lost business type and a new kind of business emerges it must also be responded by universities and when the global economic landscape changes, the social-cultural landscape also changes, certainly the research agenda and community service at the university also needs to change," President.
The character of human resources and the kind of profession needed by Indonesia in the future will also change.
"Politicians and bureaucrats will always be important but the numbers will not increase.Professional engineers of pharmaceutical engineers need more and more with the competence of international standard and which is very important to increase the number is the 'entrepreneur', the entrepreneurs who will generate new job opportunities will build added value but very unfortunate, the entrepreneurial spirit of our nation is still very low, in the 'global entrepreneurship index' in 2017, our ranking of entrepreneurship ranking 90 from 137 countries. Please do not be punched," said President to the civitas academica UGM. (Ant)