PPIK is Ready to Synergize with PWI on News Access on Korean Peninsula
By : Candra Mata And Aldo Bella Putra | Friday, December 22 2017 - 16:00 IWST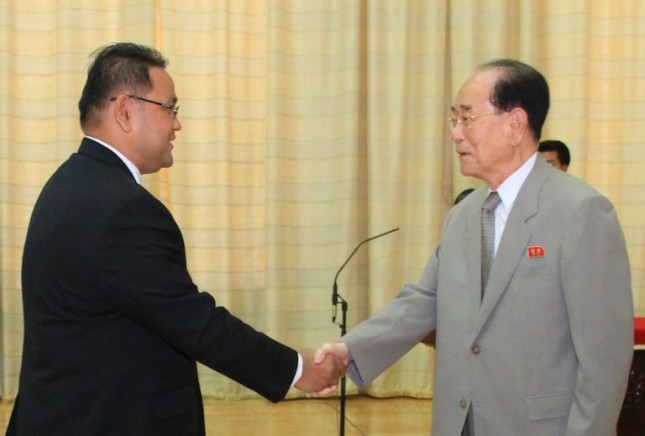 Teguh Santosa Sekjen Hubungan Luar Negeri Indonesia-Korut Bertemu Dengan Presiden Presidium Majelis Tertinggi Korea, Kim Yong Nam.
INDUSTRY.co.id - Jakarta, The Desire of Indonesian Journalists Union (PWI) to be a peace agent for the conflict on the Korean Peninsula is appreciated and welcomed by the Indonesia-Korea Friendship Association (PPIK).
PPIK is an organization established to strengthen the relationship and mutual understanding between the people of Indonesia and the Democratic People's Republic of Korea
PPIK Secretary General Teguh Santosa said in a statement received by the editorial, said that his office is ready to cooperate with PWI in providing wide access to help PWI members in writing reports on North Korea.
"We hope that with the cooperation of reportage and news about conflict that has been going on for more than six decades besides factual also delivered in the framework of peace," he said.
According to Teguh, there are still many reports about the conflict on the Korean Peninsula that are not factual and tend to heat the atmosphere.
"Capturing drama is one of the most important elements to attract readers, but dramatizing the story so that being non-factual is a serious mistake in journalism practice," he continued.
Teguh added that he is willing to facilitate PWI visits to North Korea so that journalists get a direct understanding of the situation in North Korea.
"From a perspective of peaceful journalism, it is necessary for every journalist to understand a conflict from a broader, historical and contextual perspective," said UIN Syarif Hidayatullah, Jakarta lecturer, who has visited dozens of North Koreans a dozen times.
PWI's willingness to be a peace agent was conveyed by PWI Secretary General Hendry Ch. Wake up at a dinner with Director of International Relations of the Ministry of Foreign Affairs of Korea Republic, Hwang Soonsung, in Seoul, Tuesday night (19/12).
Hendry said, it has become the duty of Indonesian press to participate in maintaining the world order based on independence, eternal peace and social justice as written in the Preamble of the 1945 Constitution and practiced founding fathers.