Control 74%, Honda Has 'No' Opponent in National Motorcycle Market
By : Wiyanto, Dhiyan And Aldi Firhand. A | Saturday, December 23 2017 - 13:02 IWST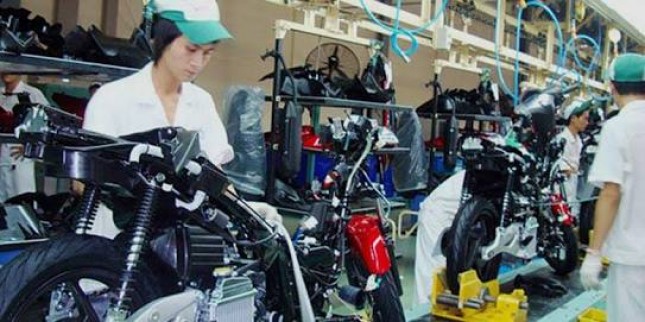 Honda motor factory (photo Kompas.com)
INDUSTRY.co.id - Semarang - Who else can fight Against Honda for motorcycle market in Indonesia?.
In the midst of economic downturn that colored the domestic industry in the last three years, Honda brand still topped the market, with mastery up to 74.6%.
The economic downturn caused by the decline in commodity and coal product prices began to be felt since three years ago. A number of regions that became the center of the commodity and coal industry were hit, so that people suffered from weakening purchasing power.
The number of two-wheeled motor vehicle sales decreased. Of total sales in 2014 of 7.9 million units, it slumped to 6.5 million units in 2015, and shrank to 5.9 million units in 2016.
Although sales figures continue to decline in all brands, Honda's brand keeps increasingly locking its market share to 73.9% by 2017, and continues to increase to 74.6% at the end of the first half of this year.
It is said that Production, Engineering, and Procurement Director of PT Astra Honda Motor (AHM) David Budiono in the opportunity of Astra International Industry Journalists Workshop, 6-7 December in Semarang, Central Java, Honda motorcycle market share in the country began to move up leaving his rivals, Yamaha since 2011 ago.
At that time we launched Vario Injection, and our market share continues to increase from year to year, David said.
In the next year, AHM is still optimistic that the market will still be in favor of Honda. As said David, it still dared to fix the market share despite thin, to 75%.
Though the motorcycle market in this year will still decrease compared to last year. David predicts in 2017 the national motorcycle sales figure will shrink slightly to 5.8 million units.
"We hope that AHM can contribute to our society and market share could be 75% in 2018," he said.
David predicts that by 2018 the automotive industry, including the two-wheeler segment, will still face challenges, such as the impact of weakening purchasing power that has not fully recovered.
Especially now some upper middle class choose to withhold spending, and increase the amount of deposit in banking while waiting for the economic situation to fully recover.
However, it is believed that there will still be a positive impact that the automotive industry, especially two-wheeled, will be able to recover from commodity price recovery. In addition, the growth needs of the middle class in the information technology era is projected to support the sales figures next year.
Plus the market will be more open to Southeast Asia, he added.
To support optimism amid the challenge of a decline in interest spending, AHM expanded its export market penetration in Southeast Asia, through new models ready to be assembled in the country.
It said David, AHM targets exports could increase by 40% -50% in 2018. In the year 2016, AHM exported about 60 thousand units of Honda motorcycles.
"This year rose to 100 thousand units," he said.
Unfortunately David is still not willing to describe any model that can be excellent for the export market, in order to sustain sales figures AHM.
Previously had circulated the news that the CRF150L trail bike that is assembled at the Honda Pegangsaan plant, Jakarta, is being studied for its export products.