Take a trip to the Putri Waterfall in Kuningan and the Legendary Story
By : Chodijah Febriyani And Aldi Firhand A | Sunday, December 24 2017 - 19:36 IWST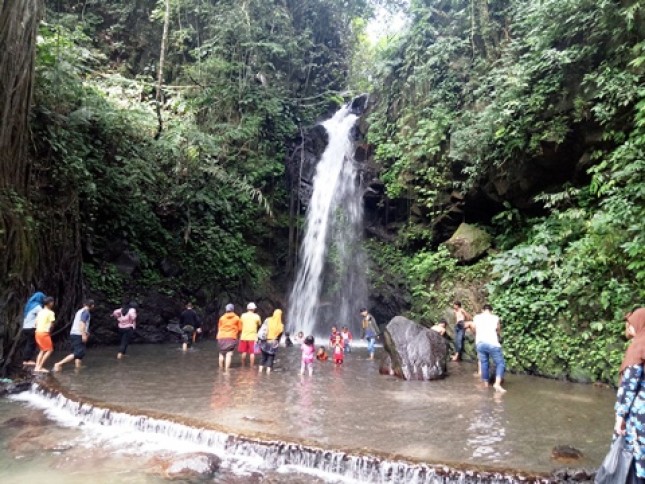 Trip to Putri Kuningan Waterfall (Photo Dije)
INDUSTRY.co.id - Kuningan - In addition to its famous history tour, cultural tourism, and culinary, Kuningan also has a natural tour that is not less beautiful than other areas on the island of Java. One of them is Curug Putri/Putri Waterfall.
Putri Waterfall or commonly known Princess Waterfall is located on the slopes of Mount Ceremai, District Cigugur, Kuningan West Java.
Team Industry.co.id, on Saturday (23/12/2017) had a chance visit the waterfall which supposedly believed to be the place where the mother of an angel.
"People also believe in the legend that is spread is Curug Putri is bathing place of the angels of heaven," said Tour Guide from Cirebon, Mustaqim Asteja, Kuningan, Saturday (23/12/2017).
This waterfall has a height of about 20 meters, and according to pantuan Industry.co.id, Waterfall Putri have clear water, the area is full of shady trees and cool.
To go to this Curug Putri the tourists can travel to Dusun Palatungan, Cisantana Village, District Cigugur, Kuningan regency, West Java. The distance from the center of Kuningan City is not far away, only about 10 kilometers and to go to the Curug Putri just about 30 minutes away.
For access to the Putri Waterfall, the road has been paved, but still be careful because the road is not too wide and meandering. Still, all kinds of vehicles can be passed.
To enter this area, the tourists just enough to pay Rp 20 thousand only. In addition to the Princess Waterfall, other tourist destinations that can be explored by tourists namely the Earth Campground, Jurang Landung, and exploring the Pine Forest.
In addition, according to Mustaqim, Putri Waterfall also has properties that until now trusted by the surrounding community.
"The public believes the efficacy of this Curug Putri like, can cure the disease, get a mate to make women who washed face or bath there, will look more beautiful," said Mustaqim Asteja.