Finally the Light Comes at Karampuang, PLTS Project 598 kWp Completed January 2018
By : Dhiyan W Wibowo And Aldo Bella Putra | Monday, December 25 2017 - 16:00 IWST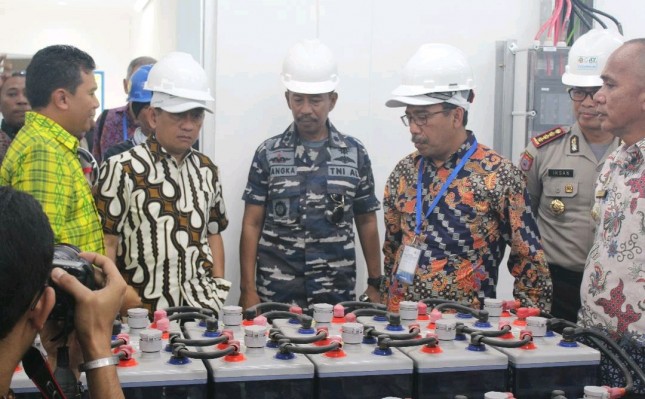 peresmian tempat Pembangkit Listrik Tenaga Surya (PLTS) di Pulau Karampuang (dok INDUSTRY.co.id)
INDUSTRY.co.id - Karampuang, the Karampuang PLTS Project will provide a total power supply of 598 kWp and benefit more than 3,000 people or about 780 households.
Located in Mamuju, in mid-December, the Provincial Government of West Sulawesi inaugurated two of the Solar Power Plants (PLTS) on Karampuang Island, funded from the Compact Grant by Millennium Challenge Corporation, USA.
The management of PLTS Karampuang involves the community and the private sector in a village electric business entity.
PLTS Karampuang is one of the Green Prosperity Project activities managed by Millennium Challenge Account - Indonesia (MCA-Indonesia), a trustee institution established by Bappenas as the implementer of the Compact Grant.
The inauguration ceremony was attended by representatives from Ministry of Bappenas, Ministry of Foreign Affairs, and Ministry of Energy and Mineral Resources.
The construction of this PLTS is the result of the work of the consortium of PT. Sky Energy and IKPT as the recipients of the Community-Based Renewable Energy Grant after going through a competitive selection process.
The project builds a total of four PLTS that will provide a total power supply of 598 kWp and provide benefits to more than 3,000 people or about 780 households.
Two PLTS which are currently inaugurated and operated are located in Dusun Karampuang I (PLTS-1 capacity 200 Kw) and Karaeang Hamlet (PLTS-2 capacity 115 kW).
Meanwhile, PLTS 3 and 4 will be completed in January 2018.
In its management, the model of village electric business entity named PT. Karampuang Multi Daya (PT.KMD) has been established where the community represented by Cahaya Karampuang Cooperative owns 51% shares while the private sector, PT. Trinitan Global, a subsidiary of PT.Sky Energy, has a 49% stake.
In his speech, West Sulawesi Governor Ali Baal Masdar said, this PLTS is a regional asset that is expected to be able to move the productive economic sector in Karampuang Island.
For that, he said, care and operational in the future become a shared responsibility between the local government, community, companies, and support from the Central Government.
One Compact grant is used to develop innovative approaches in managing renewable energy resources to promote economic growth.
The institutional management of PLTS that integrates the private sector and community in a village electricity management entity is a very interesting innovation and can be used as learning by the government to better ensure the sustainability of the renewable energy infrastructure that has been built.
Given the still large number of areas in the country that have not been fully covered by PLN, the development and management of renewable off-grid energy like this will be an important alternative.
Deputy Executive Director, MCA-Indonesia, Lukas Adhyakso said that electricity in Karampuang Island is expected to be an economic driver that will improve people's quality of life.
We hope that with the electricity coming in, Karampuang Island becomes bright. The population is encouraged to start productive activities that will increase their income. Since there is electricity, I heard that the business of poultry, food processing, and home industries has started to grow, says Lukas Adhyakso.
PLTS development in the future demands community cooperation and support from the Regional Government.
Until now, PT. Sky Energy has trained the community as a technical operator as well as improving managerial knowledge of PLTS management of Karampuang Multi Daya Cooperative management.
We are committed to take care of PLTS and assist the community for 20 years until the community is able to be independent, said Director of PT. Sky Energy Hengky Loa.