Strengthening SOEs Synergy To Increase Added Value
By : Arya Mandala And Aldo Bella Putra | Monday, December 25 2017 - 19:00 IWST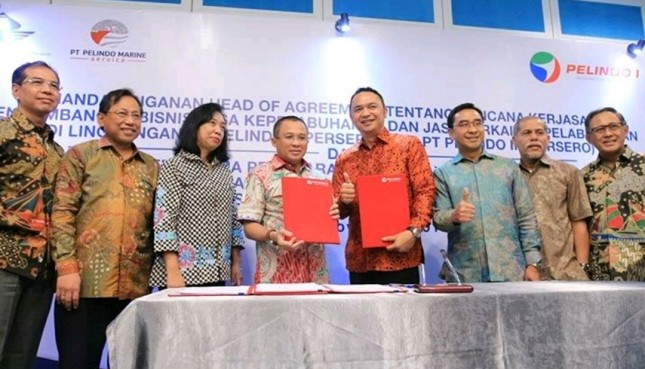 Sinergi BUMN (dok INDUSTRY.co.id)
INDUSTRY.co.id - Jakarta, Currently SOEs are encouraged to strengthen synergy. In addition to business development, the synergy between SOEs aims to optimally contribute to the development & prosperity of the community.
Mutual strikes and even taps are common in business. It is fair because the company does have a target to pursue profits as much as shareholder demands.
Mutual competition also occurs between State Owned Enterprises (SOEs) companies although the owners are both government.
This condition has no effect on efficiency. It often exemplified such as the use of ATM state-owned banks. They are competing in ATM multiplier investment, whereas if synergies other state-owned banks can use other state-owned ATMs.
Another impact to customers of both banks, when each other synergize customers do not need to pay commission fees when using ATMs of other state-owned banks.
Another example of pipeline investment is either by PT Perusahaan Gas Negara Tbk and PT Pertamina Gas (Pertagas). Both often build the same pipeline in one location whereas if they synergize, investment in gas pipeline installation can be done in other areas so that the impact on the extent of service.
Conscious are with the condition earlier, the Ministry of SOEs rolling out SOE Synergy program. This step is done structurally and non structurally.
Structurally in the sense is that the Ministry of SOEs makes the policy of establishing the BUMN holding in several sectors.
Currently under way is a holding of state-owned mining company PT Inalum. Next it will be followed by holding state-owned oil and gas Pertamina and other holding.
While the non-structural related. The Ministry of SOEs seeks to strengthen the synergy by strengthening business performance among BUMN including cross-sectoral.
The target is not only for the business of each state is growing rapidly but also can optimally contribute to the development & prosperity of the community, including of course in corporate social responsibility programs (CSR).
To ensure the program, SOEs Synergy is running well, the Ministry of SOEs held a coordination meeting (rakor) in Bengkulu last November.
The meeting was chaired by Minister of SOEs Rini Soemarno, attended by 118 President Director of all state-owned enterprises.
The objective of SOEs implementation is also to synchronize the role of BUMN in increasing contribution to development and equity of welfare.
In addition, in order to socialize government strategic policies that requires sustainable support of SOEs.
SOE Ministry predicts, throughout 2017 the total assets of state-owned companies reached Rp 7.035 trillion, BUMN equity 2017 of Rp 2.391 trillion, profit reached Rp 172 trillion, revenues of Rp 2.116 trillion, and market cap contribution from 20 state-owned companies on the BEI reached 26.24% 1.643 trillion (as of October 13, 2017).
Meanwhile, the amount of state-owned deposits to the state is projected to reach Rp 341 trillion throughout 2017, consisting of tax payments, dividend payments and non-tax-dividend payments.
But there are still things that need to be improved, especially about increasing the benefits of SOEs in every sector contained in the SOE Roadmap 2015-2019.
To that end, the Ministry of SOEs has initiated various initiatives such as re-maping BUMN development by technical deputy so that more focus in accordance with end to end business model.
Then reduce the number of SOEs loss through the concept of foster father-foster children. And accelerate the absorption of capex and state capital participation (PMN).
In doing the synergy will strengthen the cooperation between BUMN and even across sectors so as to provide optimal benefits for the community.
This can be done, among others, by collaboration between SOEs in the upstream-downstream business chain and working on an integrated economic area involving cross-sectoral BUMNs.
BUMN is considered to have to increase its role as agent of development by accelerating the execution of programs that directly impact the community.
SOEs must conduct corporate social responsibility CSR BUMN to produce optimal impact for the community.
And SOEs are expected to have a representative in the district / sub-district level who served to listen to the aspirations, criticisms, problems and potential of the area.