PT Bank Syariah Mandiri is Stronger with New Capital Injection
By : Dhiyan W Wibowo And Aldo Bella Putra | Tuesday, December 26 2017 - 19:00 IWST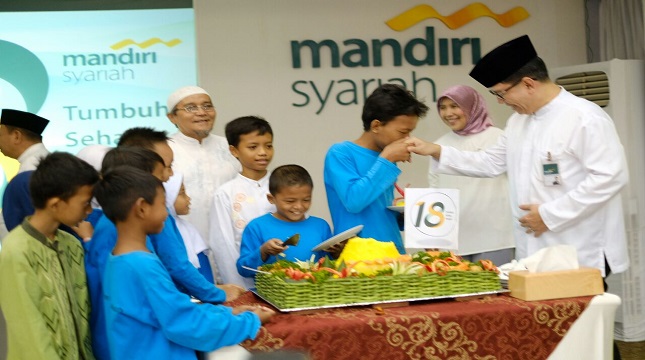 Acara syukuran milad Mandiri Syariah (Foto: Anto/Industry.co.id)
INDUSTRY.co.id - Jakarta, talking about syariah banking, the name of Bank Syariah Mandiri certainly cannot be ignored as the first sharia bank (BUS) which reached the category BUS BOOK III.
Bank category BOOK III, is a bank with a minimum core capital of Rp 5 trillion to under Rp 30 trillion. With this category, Bank Syariah Mandiri can perform all business activities of banks in the form of rupiah and foreign currency.
Despite being the strongest sharia bank in terms of capital, the parent company of Bank Syariah Mandiri (BSM) does not seem to stop to make BSM the strongest bank in terms of capital.
At least next year PT Bank Mandiri Tbk Persero as the owner of shares will inject additional capital of Rp500 billion.
This is justified by the Commissioner of Bank Syariah Mandiri Mulya E Siregar in the media gathering opportunity in Garut, West Java some time ago.
So yesterday that we can get approval from Bank Mandiri that has been approved additional capital of Rp500 billion by the Financial Services Authority. Bank Mandiri will also transfer the funds it may enter next week to enter us, he said.
BSM's capital is estimated until the end of the year will reach Rp 7 trillion.
If OJK agreed before the year changed, our capital has as much as Rp 7 trillion," he added.
At present, Bank Syariah Mandiri has equity of Rp6.65 trillion, with a Capital Adequacy Ratio (CAR) of 14.92%.
In terms of performance, until the third quarter of 2017 the company was able to record an increase in assets, financing, to net income and third party funds (DPK).
Deposit funds or third party funds grew 13.3% year on year to Rp 74.75 trillion compared to the position of third quarter 2016 which amounted to Rp 65.98 trillion.
Delivered by Director of Financing Risk and Recovery BSM Choirul Anwar, in his official statement last November, the composition of DPK majority or 50.75% is low cost fund (low cost fund).
BSM's total low-cost funds in savings and current accounts, as of September 2017, amounted to Rp 37.94 trillion.
So far the company relies on savings products both Saviri Syariah Savings and Mabrur Savings (Hajj) for cheap fund products.
The cost of our funds is also relatively not too high because it is relatively equal to large banks, he told Industry.co.id some time ago.
On the asset side, an increase of 13.26% to Rp 84.09 trillion from Rp74.24 trillion in September 2016.
In terms of financing, up to the third quarter of 2017, BSM managed to disburse Rp 58.72 trillion or grew 10.28% compared to Rp 53.24 trillion in September 2016.
Financing quality also tends to be maintained, as seen from the decrease in non-performing financing (NPF) from 3.63% to 3.12%.
In addition, in terms of BSM liquidity is also still quite visible from the company's financing to deposit ratio (FDR) of 80% or according to the provisions of OJK.
BSM has been involved in financing infrastructure projects with sharia contracts for road construction, power lines, ports, airports, and others.
As of September 2017, financing to the sector reached Rp 5.56 trillion, or grew 65 percent compared to September 2016 of Rp 3.38 trillion.
Related to profit, BSM managed to hoist an operating profit of 46.81% to Rp1, 68 trillion as of September 2017.
While the net profit that can be collected amounted to Rp 261 billion or grew by 6.04%.
This growth is supported by electronic transactions (e-channel), which until September 2017 reached 55.19 million, up compared to the previous period 52.28 million transactions.
On the other hand, the bank owned by PT Bank Mandiri (Persero) Tbk said it still supports the growth of small and micro business segment by maintaining the portfolio of financing in the segment according to the provisions of OJK of 23%.
To encourage the improvement of micro business, BSM will cooperate with several institutions including through digital banking program in Tokopedia after the company has signed the cooperation with Bukalapak.