Reaches Production Record in 2017, Vivo Confirms the 5 Big Smartphone Position in Indonesia
By : Hariyanto And Aldo Bella Putra | Thursday, December 28 2017 - 16:00 IWST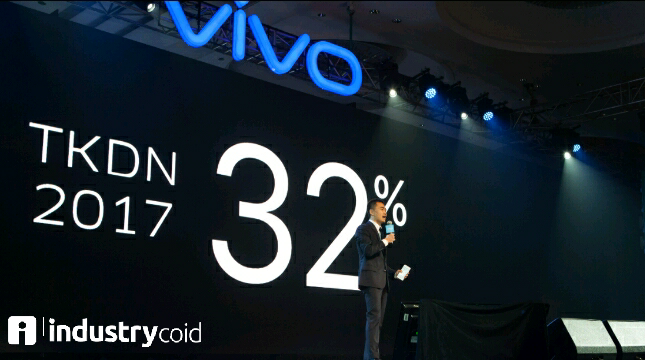 Vivo Kukuhkan Posisi 5 Besar Smartphone di Indonesia
INDUSTRY.co.id - Jakarta - Various innovations and collaborations have been presented Vivo to become the consumer's favorite smartphone Indonesia. The series of innovations such as the development of advanced interfacetular users featured on MWC Shanghai 2017, revolutionary camera technology for V-Series, and minimal display innovation bezel, integrated with various collaborative events, and commitment to long-term business development and investment.
From the official entry received by INDUSTRY.co.id, Thursday (28/12/2017), recorded a record of the smartphone product that reaches millions of devices per December 2017, Vivo again retained its position as the top 5 smartphone brands in Indonesia.
"We are grateful for the support of Indonesian consumers for this year. With increasingly positive public acceptance, Vivo has produced millions of smartphones for the domestic market and continues to strengthen our market, both online and offline to reach more consumers and support their lifestyles through technological innovations and other exciting programming series next year." Kusuma, Brand Manager of PT Vivo Mobile Indonesia.
This is achieved because of the public trust that encourages Vivo Smartphone to continue producing units so that people can easily have smartphone Vivo. In 2017 Vivo will further develop its local production center and human resource investment and start expansion of its second plant located in Cikupa, Banten. In addition, Vivo also added production capacity for domestic needs. With TKDN that has reached more than 32%, Vivo also ensures the contribution of local labor absorbed maximally. Counted, 14,000 employees have become an official part of the Vivo Indonesia family by 2017
Starting in 2017, Vivo comes as a pioneer in delivering the world's first dual-smartphone dualflipfice front camera, Vivo V5Plus. Awarded Best Camera Smartphone and Best Performance Smartphone from Mobile Phones Award 2017, smartphone presence V5Plus is also a front camera dual front openers that provide various photography advantages such as using a digital camera.
Adding variety of Selfie Series products, Vivo then presents Vivo V5Lite and Vivo V5S with more competitive pricing options. The launch of Vivo V5s in May 2017 also became the momentum of the introduction of 7 Product Ambassadors and Selfie Icon Vivo, namely: Afgan, Agnez Mo, Al Ghazali, Pevita Pearce, Prilly Latuconsina, and two sisters Shireen and Zaskia Sungkar. Representing generasimillennial and Vivo consumers who are very diverse interests, the ProductAmbassador be the perfect choice to enliven the family Vivo Indonesia.
Welcoming Ramadhan and Idul Fitri Day, Vivo Indonesia also announced a partnership with the Non-Profit Foundation of Sahabat Anak through a special program "Perfect Future". Each sale of exclusive edition Vivo V5s Pure White Limited Edition with special customized case bonus by 90's Generation donate Rp 100.000 for Perfect Future program. Educational assistance Rp 500.000.000, - to Sahabat Anak Foundation was submitted directly to the Foundation at the moment Jamboree Sahabat Anak which was held in June 2017.
In addition to partnering with Sahabat Anak Foundation, Vivo has also partnered with several popular millennials such as We The Fest 2017, YouTube FanFest and Jakarta Fashion Week 2018. Being The Official Smartphone on all three shows, Vivo presents itself as a smartphone relevant to the lifestyle of Indonesian youth and supporting their moments of expression through positive events.
Increasingly strengthening its position as a pioneer in terms of camera resolution, Vivo comes with Vivo V7 + which features the world's highest resolution 24MP front camera, FullView Display and Face Access.
The event titled V7 + Perfect Moment Grand Launch is also the launch of the largest and first smartphone in Indonesia which is broadcast live on 9 national private TV and 9 digital platform. The success of V7 + Perfect Moment Grand Launch succeeded in delivering the Indonesia Most Experiential Brand Activation Award2017 category of The Best Product Launching Activation from SWA Magazine.
Supporting distribution channels, Vivo already has 20,000 local retail terminals and 16,000 local dealers spread across the country. However, to reach more consumers, Vivo is not only focusing on strengthening offline, but also forging partnerships with the nation's most trusted e-commerce series.
Vivo has also partnered with 12 e-commerce sites: Lazada, Shopee, Tokopedia, Blibli, JD.ID, Dinomarket, Akulaku, Paloma, Bhinneka, Elevenia, MatahariMall and Octagon as Vivo's online online store providing pre-orders and mobiliansmartphone Vivo. This of course provides more convenience and choice for consumers to get a Vivo smartphone with additional benefits and payment variations.
The series of programs and technologies that Vivo presents have a positive influence on the acceptance of Vivo in smartphone market Indonesia. Referring to IDC Indonesia data for the 3rd quarter of 2017, Vivo ranks 4th smartphone in Indonesia with market share percent7,5%. This is of course a great achievement for Vivo in 3 years of existence in the smartphone market Indonesia.
Currently, with the latest V-series, V7, Vivo continues its collaboration with Mobile Legends: Bang Bang as Official Game Partner and Telkomsel as Official Mobile Partner. Having previously attended the MSC title last September, Vivo introduced the features of gaming support, as well as Eudora's Mobile Legends Eudora "Vivo Selfie Goddess" at the launch of Vivo V7, November 16, 2017. With the positive response received, Vivo also increasingly seriously integrates feature advantages as well as fan base this popular MOBA game with a special edition Vivo V7 Mobile Legends that glide in this December.
With the achievements achieved over the past year, Vivo will continue to deliver leading innovations through its newest products, constantly striving to address the needs of consumers for smartphones that can meet their lifestyles, extend the reach of its services while committing to delivering service the best in the coming years to achieve Vivo's mission as a favorite smartphone for Indonesian consumers.