Wary of Rob Flood in Early Years Impact of Supermoon Trilogy
By : Herry Barus And Aldo Bella Putra | Monday, January 01 2018 - 21:00 IWST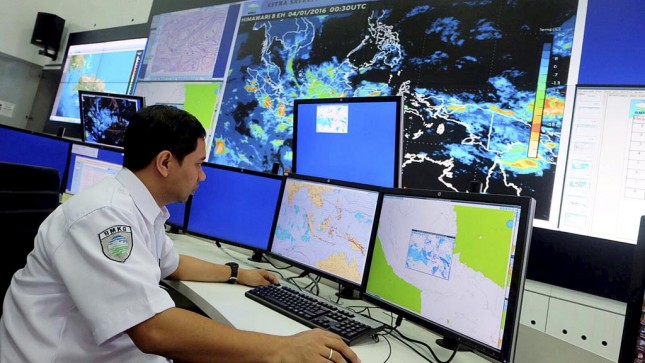 BMKG Badan Meteorologi, Klimatologi, dan Geofisika (Foto Dok Industry.co.id)
INDUSTRY.co.id - Jakarta - The Meteorology Climatology and Geophysics Agency (BMKG) stated that the phenomenon of "supermoon" will re-occur on January 2, 2018, for it is advised that people are alert to the impact of floods or tidal tides.
In a written statement received from the BMKG Legal and Organization Bureau in Jakarta on Monday (1/1/2017) the phenomenon of "supermoon" occurred on December 3, 2017, January 2, 2018 and 30-31 January 2018.
"Supermoon" is a natural phenomenon of astronomy is common with the nearest time difference between the months in the full moon.
On January 2nd, the moon will be at its closest distance from the earth in 2018, which is as far as 356,565 km at 04:48 pm. The next five hours, at 09:24 WIB, the moon will be in the peak of the full moon phase.
However, when the peak of the full moon is already buried from the territory of Indonesia, Nevertheless the community also can start to enjoy it on January 1, 2018 night.
The next supermoon will be closed on 30 to 31 January 2018. On January 30, 2018 at 16:56 pm the month was in perigee kelarak 358 993 km.
At the next 29.5 hours, ie on January 31, 2018 at 20:26 pm, the moon was in peak full phase.
The full moon perigee event of these three supermoon series will coincide with the Total Moon Eclipse event that can be observed from all over Indonesia from early evening until midnight.
The natural phenomenon will occur for one hour 16 minutes which causes the moon to be red.
Supermoon will have an impact on the rising tide of sea water predicted to occur between January 1, 2018 and January 29-February 2, 2018.
For that the people around the coast are advised to remain alert and alert to the increase of the maximum sea tide that can lead to a rob flood.