Ancol Beach is One Of The Best Location Watch Supermoon
By : Amazon Dalimunthe And Aldi Firhand A | Friday, January 26 2018 - 22:15 IWST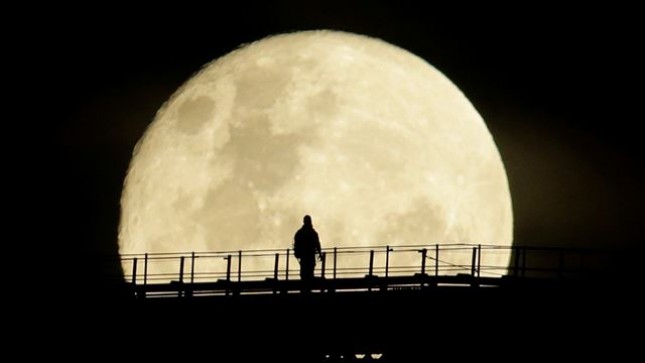 Supermoon Illustration When Witnessed From the Bridge of Love Le Bridge Taman Impian Jaya Ancol
INDUSTRY.co.id - Jakarta - The event is very rare, considering it only occurs in the 150th annual cycle, will occur on 31 January 2018. This rare aspect because at that time lasted three natural events simultaneously, ranging from Supermoon, Blue Moon, and Total Moon Eclipse. Combined that event that makes it called Super Blue Blood Moon or a reddish blue moon eclipse. At that time the moon will be at the point closest to the earth (perigee).
Unfortunately not all Indonesian people are lucky to see it. The people of Jakarta and its surrounding areas will be able to witness this rare phenomenon.
And one of the best locations to see it is on the edge of Ancol Beach Jakarta. Its location on the edge of the sea makes the view will be free and make the object a magnificent scenery. Even for photography enthusiasts will get the best picture. Not to mention for teenagers who love Selfie will get the best spot in Ancol.
According Teuku Sahir Syahali, Recreation Director Taman Impian Jaya Ancol, it plans to invite resource persons who can provide education to visitors who will make observations of the phenomenon. "Visitors simply pay for Ancol gate tickets and card holders of Jakarta Smart Card (KJP) can visit Ancol Beach for free on that night," Teuku Sahir said.
This is in accordance with the instructions of the Governor of DKI Jakarta Province socialized by the Department of Tourism and Culture of DKI, Ancol Manager ready to welcome visitors who will be a witness to the history of natural phenomena in the 150-year cycle. "We welcome the appeal of the Governor of DKI Jakarta Province which calls the tourist area as a location for the people of Jakarta witnessed the phenomenon of Supermoon" continued Teuku Sahir.
To welcome the community visit, Ancol Manager set up a gathering point at the bridge of love (le bridge) located in East Coast Ancol. The location is chosen so that visitors can see the Supermoon process clearly because the bridge is jutting into the middle of the sea it is expected that natural phenomenon can be seen clearly.
Not only provide the location of observation, Ancol Manager in cooperation with Yayasan Baiturrahman Jaya Ancol held a lunar eclipse prayer at Baiturrahman Mosque which located in Ancol tourism area. (AMZ)