Dozens of Japanese Hippo Family Members Enjoy Year-end Getaway at Ciawi
By : Herry Barus And Aldo Bella Putra | Monday, January 01 2018 - 22:30 IWST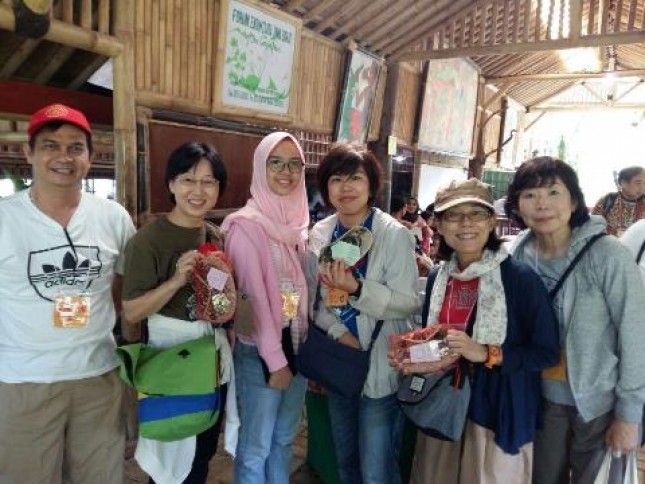 Wadir CCTI Eman Suleman Nasim bersama wisatawan Jepang anggota Hippo Family Club di Bogor (Foto Dok Industry.co.id)
INDUSTRY.co.id - Bogor - Natural beauty along with the diversity of flora and fauna of Indonesia, especially in West Java, always attract the attention of Japanese people, especially those joined in the Hippo Family Club under the leadership of Kenshi Suzuki.
Evidently, about 30 members of the Japanese community members of Hippo Family Club since December 29, 2017 and then spend time for year-end holidays in Lembur Pancawati Ciawi District Bogor Regency whereas before, August 2017, they also have visited the same place to enjoy a mid-year vacation.
"We love Indonesia. We love the nature of Indonesia. We also love the hospitality of the people of Indonesia, "said one participant who is also a member of Hippo Family Club, Takakao Imamura from Saitama Japan, yesterday in Bogor.
Before enjoying the end of the year in Lembur Pancawati Ciawi Sukabumi, 30 members of the Japanese community stayed for three days, starting Tuesday (26/12) at the home of members of Indonesian society who was elected to host family and spread across the DKI Jakarta and West Java and Banten Province. This activity was organized by Hippo Family Club Japan with Cross Culture Training of Indonesia (CCTI) under Ali Syarief.
"Before the friends of this Hippo Family Club members get together and enjoy the nature of Lembur Pancawati Ciawi Bogor, they live in the house of our relatives, Indonesian Citizens who are willing and selected CCTI to Host Family scattered in Jakarta, Tangerang, Bekasi, Bogor, also Bandung. During his stay at the residents' house, this Hippo member learned Indonesian culture and language. Including customs and habits of the people of Indonesia directly, this activity in addition to increasing their love for the nation and the country of Indonesia, also adds fraternity and mutual understanding between the people of Indonesia and Japan," said CCTI Deputy Director Eman Sulaeman Nasim who also became one of the Host Family for Japanese members of Hippo Family Club, Monday / 1/2018).
The founder of Strategic Communication Services firm Indonesiachannel added that besides Japanese citizens who learn the culture and customs of Indonesian citizens who are the host family, Indonesian citizens who are the hosts of the family also learn from the habits and discipline of Japanese citizens who live in their homes. So far, Japanese citizens are known for their culture of discipline, courtesy and cleanliness. This is applied when they live in a host family home in Indonesia.
"Another benefit, Indonesian citizens who host family, when they go to Japan whether for business, office, travel, or visiting families who are studying in Japan, no need to bother thinking about a place like an expensive hotel. Japanese citizens who have lived with them or members of the Japanese Hippo Family Club, are ready to visit and accommodate and take turns to host their families, "said Eman Sulaeman Nasim, a lecturer at the Vocational Program of Universitas Indonesia and Institute of STIAMI
Bamboo cannon
During the year-end of 2017 at Pancawati, more than 30 Japanese people are members of Hippo Family Club and its Family hosts from Jakarta, Tangerang, Bogor and Bandung area. Besides doing hiking or walking uphill in Pancawati Ciawi Bogor area, traditional music of Java Baat Angklung. In addition they also learn poco-poco dancing and singing Indonesian regional songs.
By the close of the year, Japanese citizens with a variety of professions enjoy the typical toys of Indonesian children of antiquity, Bamboo Cannon. The cannon made of bamboo, carbide and then ignited by fire. So there was an explosion, like the old-style jago cannon. After that, with the host family, the Japanese tourist is lighting fires and fireworks.
Toward the turn of the year, Chairman of the Hippo Family Club Japan / Lex Institute Kenshi Suzuki and director of Culture Institute Ali Syarief gave a speech as a happy expression; the cooperation of these two institutions continues to increase the sense of brotherhood of two nations. After that, all participants either Japanese tourists members of Hippo Family Club and host family do countdown to 2018. At the turn of the year, they greet each other and shake hands