Position of Airlangga Hartarto Does Not Affect Performance
By : Herry Barus And Aldo Bella Putra | Saturday, January 06 2018 - 22:00 IWST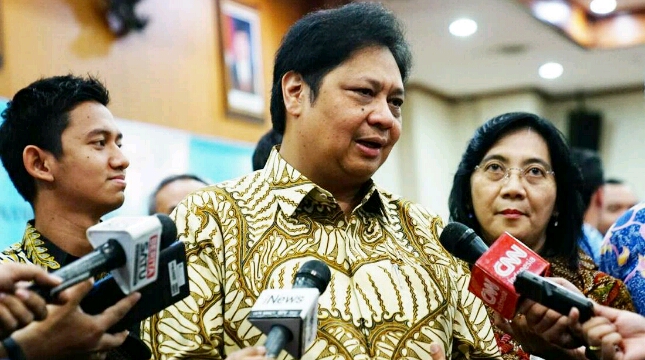 Menteri Perindustrian Airlangga Hartarto
INDUSTRY.co.id - Jakarta - Golkar Party DPP Chairman Happy Bone Zulkarnain said the position of Minister of Industry Airlangga Hartato who now concurrently position as Chairman of the Golkar Party will not affect the performance of both fields.
In a discussion titled "Should Airlangga Take Back?" in Jakarta, Saturday (6/1/2017) he said Airlangga has prepared solid and professional teams both in the Ministry of Industry and Golkar so as not to take advantage of the position for political interests.
"Airlangga has formed a solid and professional team, so it will not interfere with the performance of the Ministry of Industry and the party, which is separated in the bureaucratic and party realm, the team has clear targets and goals," Happy said.
He sees the time when the Cabinet Working government is not much more, especially ahead of the stages of the 2019 presidential election in August and September, so the position of Airlangga in two positions need not be debated.
According to him, many programs of the Ministry of Industry that Airlangga triggered should be continued, so unfortunate if the program becomes constrained due to cabinet reshuffle.
Happy explained after Airlangga was elected as the Chairman of the Golkar Party DPP to replace Setya Novanto at the Golkar Party DPP Plenary Meeting mid December 2017, Saiful Mujani Research Consulting (SMRC) survey of the banyan tree party showed a three percent increase from 9.5 percent to 12, 5 percent in one month.
On the same occasion, researchers from Saiful Mujani Research Consulting (SMRC) Sirojudin Abbas as quoted by Antara said, the public can reflect on the performance of Village Minister and PDTT Eko Putro Sandjojo who also doubles as General Treasurer of the National Awakening Party.
The achievement of the Working Cabinet according to Nawa Cita, which is to build Indonesia from the periphery can be realized well even though Eko has an important position from his political party.
"The government's flagship program, which builds villages from the outskirts, has great acceleration, poverty alleviation is also coming from the village track, there is no direct effect due to position as party treasurer with the performance of his ministry," said Abbas.
He added that Airlangga reflects the ministerial figure needed by Jokowi, that is innovative, producing new works, strengthening the policies designed by the President and the resulting program can be felt directly to the community.
Therefore, according to Abbas, the possibility for Jokowi to shift the position of Airlangga from the Minister of Industry is very small.