Make Sure This Four Things When Create Land Certificate
By : Ahmad Fadli And Aldi Firhand. A | Sunday, January 07 2018 - 21:28 IWST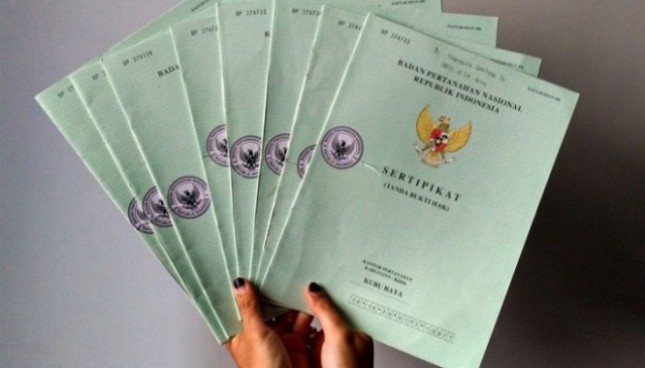 Illustration of home ownership certificate
INDUSTRY.co.id - Jakarta - Just buy a house? The land certificate is Certificate of Property or SHM? If not, immediately make a certificate. Because, the most powerful proof of land ownership is a certificate. But also not absolute. A certificate is considered valid if there is no claim of another party causing the certificate to be null and void.
The cost of handling the certificate itself is determined directly by the National Land Agency (BPN). Nominal management is different, depending on the size of the land and its location. The amount to be paid generally includes measurement fees, committee fees, and registration fees.
Maybe for you who have never taken care of the certificate stages look complicated, but in fact very easy. Find out how to Take Care of Land Certificate.
Or if you buy a house with the help of a professional property agent, then when the process of turning names or making a certificate, they can also help you. But basically there are four important points that must be met when you want to make a certificate, such as:
Status / Legal Basis for Land Ownership
This is to find out on what basis the land is acquired: sale, purchase, grant, inheritance, or exchange. Includes history of land ownership.
Rightsholder Identity
Also called subjective certainty. The point is to ascertain who is the enforcer of the land rights and whether he really gets the land legitimately.
Location and Land Area
This is an objective certainty expressed in the form of a situation measurement (GS) to confirm the location, boundary, shape, and area of ​​the land. Thus, the land in question does not overlap with other people's land and ensures the object of the land is not fictitious.
Publishing Procedure
Procedures shall comply with the principle of sitas purchaser, by announcing to the municipal office or local authority the existence of a land title application so that the other party who objected may file a rebuttal before the grant of the right (certificate) is issued. The announcement is only necessary for the grant of a new certificate, not a name.
If there is a legal defect, if one of the four principles is not eligible, then the third party with an interest in the land may apply for the cancellation of the certificate, either through a court decision, or the decision of the Minister of Agrarian Affairs / Head of BPN (National Land Agency) .