Pertamina and AKRA Appointed to be Special Fuel Distributors
By : Hariyanto And Aldo Bella Putra | Monday, January 08 2018 - 19:00 IWST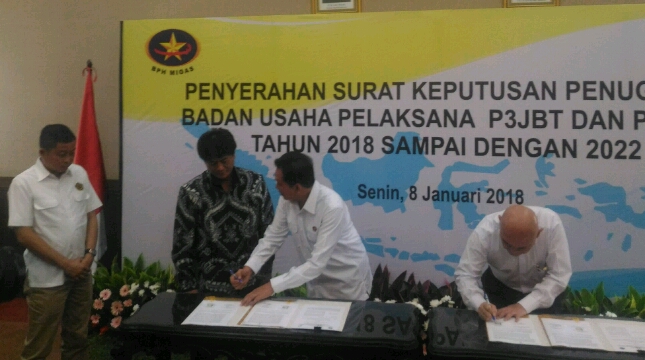 Penandatanganan surat keputusan penugasan pendistribusian BBM kepada Pertamina dan AKR Corporindo melalui BPH Migas
INDUSTRY.co.id - Jakarta - The Government through the Downstream Oil and Gas Regulatory Agency (BPH Migas) officially appoints PT Pertamina (Persero) and PT AKR Corporindo Tbk as the implementer and distributor of certain fuel oil and special fuel for assignment for the period 2018-2022.
Head of BPH Migas, M. Fanshurullah Asa said, for the first time the assignment of fuel distribution is set for a period of five years. This is in accordance with the wishes of the government in order to simplify procedures in the determination of business entities for the distribution of fuel.
"For the first time set with a period of five years. This is the request of the Minister (Ignatius Jonan), which will annually be issued by BPH Migas on the quota of the assigned volume, both for AKR and Pertamina, "Fanshurullah said on the signing of the distribution of fuel at the Jakarta Ministry of Energy and Mineral Resources (ESDM), Monday (8/1/2018).
He said in 2018 the quota set for AKR in the supply and distribution of certain types of fuel or diesel is 250 thousand kiloliters (KL) or 1.6% of the total allocation in the 2018 State Budget (APBN) set at 15.6 million TOS
Meanwhile, Pertamina gets a quota of certain BBM 15.98 million KL with details of certain fuel or diesel fuel 15.37 million KL and kerosene 610 thousand KL.
"Diesel oil is reserved; there are one million that we hold as LPG 3 kg for efficiency and emergency if anything happens. For 2017 the realization until the end of December 14.38 million KL or 93.5%," he said.
For special assignment or Premium fuel outside Java, Madura, Bali (Jamali) is set at 7.5 million KL. The allocation is bigger than Pertamina's proposal of 5.46 million KL and also bigger than 2017 realization.
"Until December 2017m the realization of the distribution of seven million KL for the type of special fuel assignment or Premium quota of 7.5 million KL," he said.
According to Fanshurullah, BPH Migas actually has provided an opportunity for other parties to get involved in the distribution of special fuel assignments and certain BBM.
For the selection of business entity implementing the assignment and distribution of certain types of BBM (P3JBT) for example from 14 business entities present, 11 of which took the document, and from 11 only AKR Corporindo and Pertamina which included the documents and selection process of P3JBT.
In the selection of the implementing agency for the assignment and distribution of special fuel type assignments (P3JBKP), BPH Migas invites two business entities for the evaluation process, there are two institutions namely Pertamina and Triwahana Universal, but no business entity includes evaluation documents.
"Pertamina through the President Director delivered a letter dated October 20, 2017 addressed to the Head of BPH Migas which states Pertamina's ability to perform the assignment through direct appointment mechanism for the distribution of certain fuel," said Fanshurullah. (de)