LPDB Sure Revolving Fund 2018 Free from Fake Cooperatives
By : Ahmad Fadli And Aldo Bella Putra | Monday, January 08 2018 - 21:00 IWST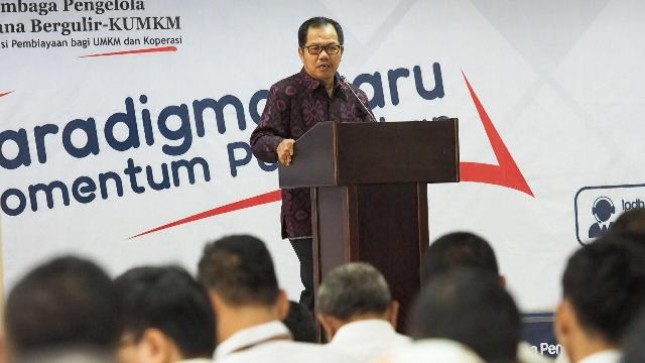 Direktur Utama Lembaga Pengelola Dana Bergulir Koperasi Usaha Mikro, Kecil dan Menengah (LPDB-KUMKM) Braman Setyo telah menyiapkan sejumlah langkah strategis guna menyongsong tahun 2018.
INDUSTRY.co.id - Jakarta - Managing Director of Micro, Small and Medium Enterprises Management Fund (LPDB-KUMKM) Braman Setyo has prepared a number of strategic steps to welcome the year 2018. Improved Standard Operating Procedure (SOP), service unit infrastructure, IT infrastructure, human power.
With such a good system, Braman believes the channeling of funds in the future will be on target. Based on the previous year's evaluation records, the distribution of revolving funds to cooperatives and SMEs raises legal risks due to lack of accuracy in assessing the feasibility of partners.
"The core of KUMKM that we will channel the revolving funds is a healthy business and quality; there is no fake cooperative. Therefore, in the future LPDB should be better," said Braman in the direction of achieving the target LPDB-KUMKM 2018 in Jakarta, Monday (8/1/2018).
The event was attended by Business Development Director Adi Trisnojuwono, General Director and Legal Fitri Rinaldi, Director of Finance Ahmad Nizar, Director of Private Faith Business, Syariah Financing Director Jaenal Aripin, Head of Internal Audit Unit Muhammad Sugianur, expert staff of directors, special staff and divisional heads, head of department and all LPDB-KUMKM staff.
To reduce that risk, Braman brings the new paradigm of LPDB-KUMKM as an inclusive institution, in cooperation with a number of stakeholders such as cooperatives and SMEs throughout Indonesia, Jamkrindo or Jamkrida. LPDB-KUMKM will involve the parties to analyze the feasibility of KUMKM potential recipients of revolving funds.
"With the cooperation, I with the directors of mutual unity, cooperation with the guarantee institution, do not worry," he added.
The new LPDB paradigm contains three key successes, namely Success Distribution, Successful Utilization, and Return Success. The estuary of how institutions under the Ministry of Cooperatives and SMEs can improve the quality of service to partners in the new era of LPDB under the leadership of Braman and its directors.
Braman says Success Distribution should emphasize the principle of prudence (risk), transparency, efficiency, target, easy requirements, system use, and fast service time. While Successful Utilization, ie data partners and end users must be recorded properly, monitoring of collectability or impact detected.
"Well Successful Returns are based on satisfaction surveys, timely returns, in accordance with SP3 and maintenance of collectability," said Braman.
This year LPDB-KUMKM plans to distribute revolving funds amounting to Rp 1.2 trillion, consisting of Rp 750 billion for conventional financing, and Rp 450 billion for sharia financing. For savings and loan cooperatives sector Rp 480 billion, real sector cooperatives Rp 120 billion, MSMEs Rp 360 billion, and LKB / LKBB Rp 240 billion.