Collaboration President University -Ruangguru Distributes Scholarships for 1,440 Students
By : Ahmad Fadli Dan Aldo Bella Putra | Wednesday, January 10 2018 - 19:00 IWST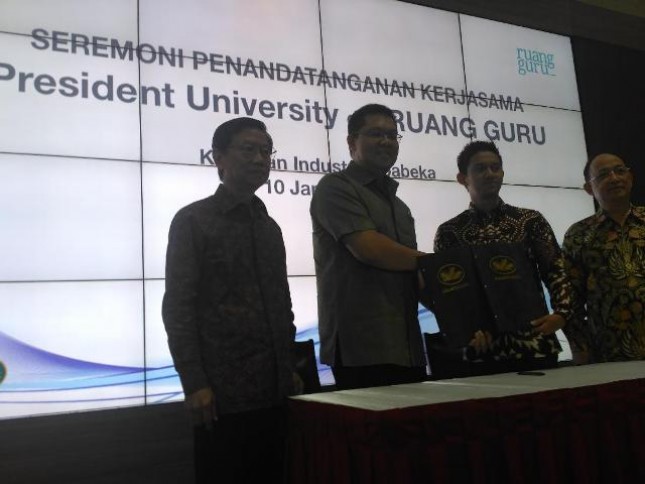 President University Bersama Ruangguru Salurkan Bantuan Beasiswa Bagi 1.440 Pelajar
INDUSTRY.co.id - Jakarta - President University, located in Jababeka Industrial Estate, Cikarang, West Java signed a Cooperation Agreement with Ruangguru to conduct a selection of college scholarships on campus.
In this partnership, Ruangguru, which is a provider of education services that has been used by 6.5 million students in Indonesia, will be the exclusive organizer in online selection for prospective scholarship recipients at President University.
There is a scholarship worth Rp 66 billion, for 1,440 best achievers of Indonesia (academic year 2018/2019). The online exam platform, the room is tested, will be used by the XII class students to compete for the scholarship.
During this time, various industries in Jababeka Industrial Estate have also been actively supporting scholarship lectures at President University with offline acceptance system in selected cities. To reach more students, online selection is selected.
"We chose Ruangguru, because the test platform has good technology, and can be accessed nationally," said Rector President University, Jony Oktavian Haryanto in his speech at the signing ceremony in Jakarta on Wednesday (10/1).
Jony continued, with online selection tests can open opportunities to all children in Indonesia, both in big cities and remote areas in order to get into the college of good and quality.
The majors that can be selected in the scholarship program include accounting, business administration, management, information technology, information systems, industrial engineering, mechanical engineering, electrical engineering, development techniques, international relations, communication, law and education of primary school age children.
While Usman Usman, Director of Product and Cooperation Ruangguru said, based on input from users of the application today, the problem most often complained when going into the world of college is the cost of tuition is quite expensive.
"Our participation in this scholarship program is an effort to give us back to Ruangguru loyal users so that they can continue their education to a higher level, without having to think about the expensive cost," he said.
Meanwhile Ruasuru CEO Adamas Belva Syah Devara said the enrollment of Ruangguru's college scholarship program is open from today on January 10, 2018 to February 9, 2018. "The selection phase starts from 10 February to 5 March 2018 which will be divided into 4 stages and announced on 28 - 30 March 2018, "he said.
At these stages, he continued, Ruangguru undertook operational procedures ranging from registration, selection test and ranking of participants based on test results. After the online selection, the President University team will make an advanced selection (file selection) to determine full scholarship recipients and partial scholarships.
Present in Indonesia since 2014, said Adamas, Ruangguru currently has more than 6.5 million users and developed various technology-based learning services such as learning limbel online with video learning, practice questions and discussion and summary of modules, private, ruanglesonline that is on-demand tutoring service, test room that is tryout exam online and digitalbootcamp is learning in group chat with standby tutor.