Rice Harvest Is More Fast in Banyuasin and Musi Rawas, Proof of Safe Food Supply
By : Herry Barus And Aldo Bella Putra | Wednesday, January 10 2018 - 21:00 IWST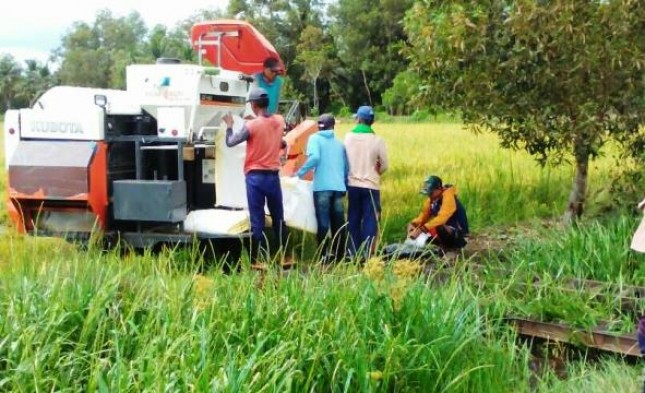 Panen Padi Makin Gencar di Banyuasin dan Musi Rawas (Foto Dok Industry.co.id)
INDUSTRY.co.id - Palembang - Rice harvest in January is increasingly vigorous in South Sumatra. As if unending, the area of ​​harvest continues to grow. This gives us confidence that rice supply in South Sumatra is safe, even can meet the needs of other provinces.
The rice harvesting activities of Musi Rawas and Banyuasin take place almost every day. Report of harvest (Tuesday, 9/01/2018) in Banyuasin region, implemented in Telang Rejo village kec. Muara Telang area of ​​16.5 Ha, Rice harvested varieties include Ciherang and IR64 with provitas reaching 6.5-6,8 ton / Ha GKP. Meanwhile, in the Musi Rawas harvest area is implemented in several locations, among others; village D. Tegalrejo kec. Tugumulyo area of ​​4 Ha (Inpari 33 varieties; Provitas 8.96 ton / Ha GKP); and the village of Air Lesing kec. Muara Beliti area of ​​1.5 ha (Inpari 30 varieties; Provitas 9.9 tons / Ha GKP).
Simultaneous harvest at several locations was attended by representatives of Upsus Kementan for kab. Banyuasin and kab. Musi Rawas, Agriculture Officer, Extension Officer, POPT Officer, and Babinsa.
The current price of paddy in Banyuasin reaches Rp. 5.100 per Kg of GKP. Report officer Upsus Muara Telang, Dwi Susilo, the price of grain is now good and very profitable farmers. Farmers today are very excited to plant immediately after harvest, he said.
In Musi Rawas district every time there is harvest and there is planting, it is ready to plant rice again. So after the harvest immediately planted again, because there is still enough water for planting. The majority of farmers also have used new varieties so that the provitas obtained was high reaching 8-10 tons / Ha, said Tohirin, SP (Secretary of Agriculture and Animal Husbandry Department of Musi Rawas).
In response to the growing rice import discourse, both Dwi Susilo from Banyuasin and Tohirin from Musi Rawas, stated that we are self-sufficient, so there is no need to import rice. If there are rice imports then the price of grain will fall and farmers lose money ", said both.
In his written statement, Risfaheri as Upsus Kementan Penjan for Banyuasin and Musi Rawas; the increasingly incessant rice harvest in Banyuasin and Musi Rawas will increase rice supply in South Sumatra and other regions. Seeing the incessant rice harvest, it is certain that rice production is safe, and can even meet the needs of rice in other regions.
Furthermore Risfaheri added rice import is not needed. Rice production is safe and production data show a surplus. Moreover, all the farmers who were asked, the answer strongly rejected the plan to import rice because it will lead to the price of grain fell so that farmers lose money.