PT Jababeka - Gorontalo District Government Cooperate to Develop Tourism and Infrastructure Industry
By : Herry Barus And Aldi Firhand. A | Saturday, January 13 2018 - 23:07 IWST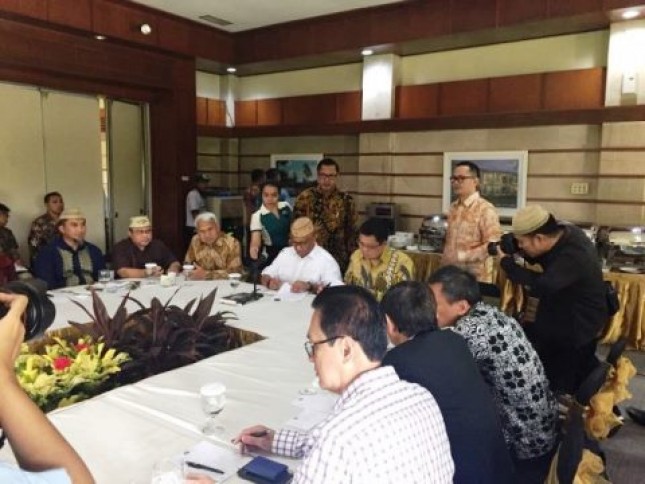 PT Jababeka- Gorontalo Provincial Government Cooperates Culture of Tourism and Infrastructure Industry (Foto Dok Industri.co.id)
INDUSTRY.co.id - Gorontalo - To support industrial development in Gorontalo, Gorontalo Provincial Government is partnering with PT Jababeka Tbk. to invest. As a form of seriousness, the Governor of Gorontalo together with PT Jababeka held a signing of cooperation held at Jababeka Industrial Estate in Cikarang, West Java.
For cooperation in tourism development and infrastructure development, the cooperation was signed between Gorontalo Governor Rusli Habibie and Fasific Asia Town Association (FATA) Director F. Purnomo. There is also a signing of cooperation with Rector President of the University. Jony Oktavian Haryanto, SE, MM, MA for student development of Gorontalo.
With Gorontalo's vast potential land of 12 thousand Square Meters and having two sides of the North and South seas is remarkable. Stay who his partner (who will invest) we can find. We have approximately 30 countries to be invited to cooperation, bright CEO of PT Jababeka Tbk Setyono Djuandi Darmono.
Related to the development of investment, Darmono revealed not only on the availability of supporting infrastructure such as transportation, electricity network and regional security issues. Moreover, local governments at both the provincial and district / city levels should be able to facilitate special regulations that can facilitate investment.
So there must be a regulation that Jakarta should not, but Gorontalo may. It means that there are different ones offered by Gorontalo that do not exist in other areas. If Gorontalo and Jakarta same, yes mending in Jakarta. This is an investment attraction, he added.
Previously, Gorontalo Governor Rusli Habibie explained specifically the economic potential in the region. According to him, the provincial government of Gorontalo has designed a special economic zone (KEK) Gopandang (Gorontalo, Paguyaman, Kwandang) covering three districts namely Gorontalo, Boalemo and North Gorontalo. If infrastructure investment has been built then the region will become a new industrial area in the region.
We also have a lot of forest land ex HGU (Cultivation Rights) several thousand hectares. They ask for permission again, but after we review a lot of harm, a lot of harm. There are also approximately 30,000 hectares of forest concessions in Boalemo and Pohuwato areas, beber Rusli told media crews.
Various infrastructure development has also been run by the local government. In addition to the 40 megawatt surplus electricity supply, the construction of the Gorontalo Outer Ring Road (GORR) toll road, the revitalization of airports and seaports is expected to attract investment in the region.
For the initial stage, PT Jababeka Tbk will invest in human resource development through recruitment on the campus of President University. Further investments in the construction of micro hydro power plants (PLTMH), construction of clean water networks and the development of tourism sector.