Ajwa Madinah Barakah Launches Innovative Beverage Products Date Drink 7Dates
By : Wiyanto Dan Aldo Bella Putra | Sunday, January 14 2018 - 18:00 IWST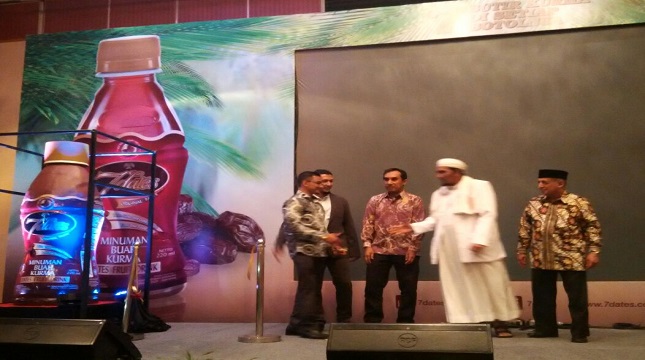 Nabil, CEO PT Ajwa Madinah Barakah
INDUSTRY.co.id - Jakarta - PT Ajwa Madinah Barakah gave birth to innovative dates with 7 dates. 7 Dates (Seven Dates), a date not only trend drink, but loaded with other advantages such as without artificial dyes and sweeteners.
7 Dates can be categorized as a good softdrink to be consumed on a daily basis. "7Dates can be a supplement for those who need energy intake and improve body immunity and serves as an antioxidant that is beneficial for nutritional intake and nutrition for the body. One of the benefits of 7 Dates is suitable for the heart, pregnant women, stroke preventer," said Nabil, CEO of PT Ajwa Madinah Barakah in Jakarta, Saturday (13/ 2017).
According to Nabil, 7Dates is the only date-free date-free and preserved sweetener. These drinks are processed hygienically using industrial machinery according to food grade standards. "We dare to guarantee this product is safe for consumption and enjoyed by all family members, from children to adults," said Nabil firmly.
Nabil asserts, 7 Dates is also very well consumed by athletes or those who exercise hobby, heavy workers who need more stamina, as well as those who are concerned about health or in the process of therapy. "We want this product to be the answer to the health problems and natural stamina enhancer of dates, our noble mission is one of them is to contribute to create a healthy and strong Indonesian society, so their lives can be more stamina," said Man who is also known as an exporter of several products food of this native Indonesia.
To make it easier for consumers to get their products, Nabil explained 7 Dates can already be purchased in Minimalist network 212 Mart, Minimarket Sodaqo Apotik Roxy, SocaMart, Freshmart, Koppada Mart, KitaMart, OK-Oce Mart, Ummar Minimarket, FamiliMart, and IslamicMart.
In addition, added Nabil, 7 Dates also more easily obtained online, because it has established cooperation with one of E-Commerce, Duniahalal.com. "Our commitment is 7 Dates products can be easily obtained by consumers online or through gadgets, just play your finger on the smartphone, then 7 Dates will arrive at your home, in addition to facilitate online transactions, buy 7 Dates through Duniahalal.com also get free postage facility for Jabodetabek area," Nabil explained the spread of 7 Dates products in various distribution channels, both online and offline.
Therefore, at this launching event, he added, so that people can know and know 7 Dates products in more detail and can feel the sensation of consuming more natural dates with the level of authenticity of 7 dates in each package.
Furthermore, Nabil added, if the local fruit contains a lot of water; while the fruit dates when squeezed, jelly it more. Clumped and there should be a special formula to process it. "We use a special formula to be a high quality date palm, which is not a cake, it can be 20% more in 1 bottle," he said.
By presenting a product of fruit drink dates in 220 ml and using 7 grains of dates as raw materials, the quality of this health drink cannot be underestimated. In addition to halal elements, 7 Dates products have also been certified product worthy of BPOM. So in addition to healthy, this product is also legal.
Related marketing targets, Nabil said it is targeting some hospitals and pharmacies so that those who are sick can feel the efficacy of 7dates. In addition, this drink is also able to optimize the performance of the brain and heart and improve body work to keep it fresh and healthy throughout the day.