2018 Piaggio Give the Best Offer For Its Customers
By : Ridwan And Aldi Firhand. A | Saturday, January 20 2018 - 19:46 IWST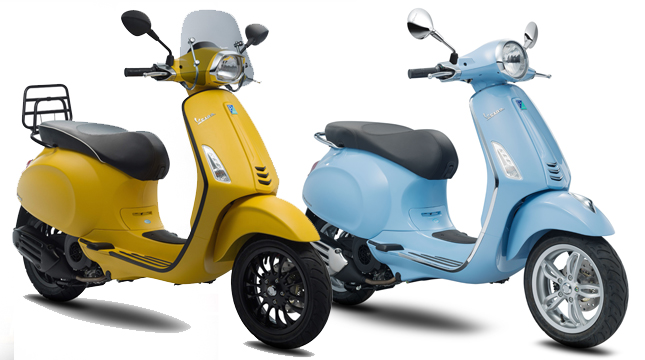 Vespa Arcobaleno dan Vespa Sprint Sport
INDUSTRY.co.id - Jakarta - Following its success throughout 2017, Piaggio Indonesia started 2018 with a Holiday with Us program specially designed to pamper customers and enhance PT Piaggio Indonesia's distinctive driving experience.
Consumers who purchase certain variants of the Piaggio and Vespa brands throughout January 2018 are entitled to a 9,000,000 Vespa Genuine Helmet travel voucher, a Vespa Genuine Helmet worth Rp 990,000, - and the chance to win an unforgettable trip: Piaggio Vespa Escape Tour.
Vespa motorcycle variants included in this special program are Vespa LX 125 i-get, S 125 i-get, Primavera 150 i-get, Sprint 150 i-get, GTS 150 i-get & 3V and GTS 300 MIV, with year of manufacture 2017.
As for Piaggio, customers can participate in this program by purchasing the Medley i-get 150 or Medley S i-get 150-year-making variant of 2017.
The main prize of this program, Piaggio Vespa Escape Tour, will bring two owners of the lucky Piaggio Vespa to the island of gods, Bali. This tour will bring customers to enjoy the complete Piaggio Vespa lifestyle experience.
Marco Noto La Diega as President Director of PT Piaggio Indonesia revealed, enthusiasm for this new year, We believe this program is a good way for our customers to start in 2018.
"Our customers are entitled to enjoy the performance of our products and improve their lifestyle, which is also an added value of Piaggio Vespa products as well as the opportunity to win unforgettable trips," he said in a press release in Jakarta (19/1/2018).
Customers get direct prize of travel vouchers with value based on variant purchased ie, Primavera type i-get with voucher value of Rp2.500.000, type Sprint i-get for Ro2.500.000.
Furthermore, type LX 123 i-get for Rp1.000.000, type S 125 i-get for Ro1.000.000, type GTS 150 for Rp2.000.000, type GTS 300 MIV for Rp9.000.000, and type Medley ABS for Rp6.000.000.
Piaggio Indonesia defines the highest standards of safety, technology, comfort and accuracy to detail for the global motorcycle industry.
Developed with strong Italian DNA, Piaggio and Vespa provide the best product experience and innovation, at competitive prices for Indonesian customers.