Six Indonesian-Japanese Infrastructure Industries Work Accelerated
By : Ridwan And Aldi Firhand. A | Saturday, January 20 2018 - 22:55 IWST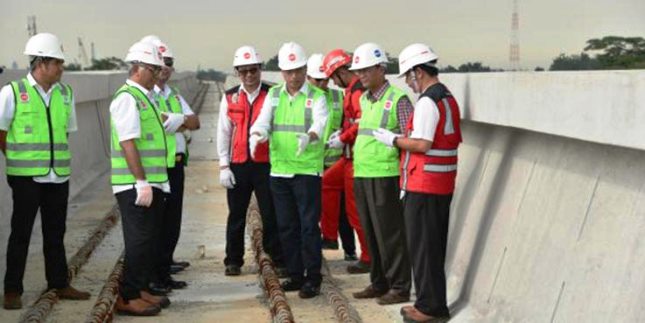 Minister of Transportation Budi Karya Sumadi reviewed the LRT project
INDUSTRY.co.id - Bogor - Japan accelerated the completion of six major infrastructure projects in Indonesia as agreed by President Joko Widodo and Japanese Prime Minister Shinzo Abe.
It was in line with the expectation of President Joko Widodo (Jokowi) who received Delegation of Japanese Prime Minister Toshihiro Nikai and the delegation who attended the celebration of 60 years of diplomatic relations between the two countries at the Presidential Palace in Jakarta yesterday.
At the meeting, President Jokowi said during a meeting with Prime Minister Shinzo Abe in Manila, Philippines, in November 2017, the two countries had agreed on several matters.
"We agreed to immediately complete the existing infrastructure cooperation, and at that time I said that we should quickly finish the cooperation project that we have agreed on," he said.
Therefore, the meeting which was also attended by Minister of Public Works and Public Housing (PUPR) Basuki Hadimuljono discussed about the acceleration of six infrastructure projects in Indonesia handled by Japan.
Minister PUPR Basuki said there were six projects reported.
"So there are six projects reported by Hiroto Izumi, special adviser for prime minister of infrastructure, firstly about Patimban will start its groundbreaking in May 2018 so that later in March 2019 will be soft opening," he said.
It was assigned to complete the access road from national road to Patimban.
The second phase MRT project is also targeted to be completed by the end of 2018 and will be tested immediately so that in 2019 it will be operational.
"The west and east project, so the east of the west is being prepared by its consultants," he said.
Then for the three Jakarta-Surabaya railway projects, the agreed 5.5 hour speed will be re-evaluated tariff so that it will likely be cheaper than the projection and preliminary calculation, currently being prepared "feasibility study".
Furthermore, the Fourth Trans-Sumatera Toll Road project from Padang to Pekanbaru.
"We have a new route with tunnel and with connecting road, it will be financed because with 'transfer of technology', it is with 'conventional loan' from Japanese government and Indonesian government, whereas the connecting road will be loaned directly to Hutama Karya as the assignment , "he said.
That way the concept of financing will not burden the state budget and the plan will be done "ground breaking" end of 2018.
"Then the Five Blocks of Marsela crude oil, Japan is also preparing to get started soon, and what they think and Sixth are being prepared, fishery projects, fisheries development in outer islands like Natuna with Morotai," he said.