Food Packaging Made from Polystyrene is Safe For Health and Sustainable For the Environment
By : Dina Astria And Aldo Bella Putra | Wednesday, January 24 2018 - 17:00 IWST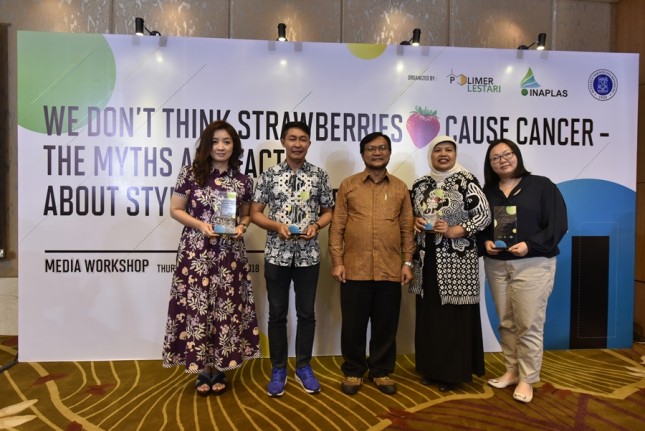 POLIMER LESTARI, ITB dan INAPLAS. (Dok. Industry.co.id)
INDUSTRY.co.id - Jakarta - The oblique issue of food packaging made from polystyrene or commonly known as "Styrofoam" in Indonesian society is now broken. Experts and representatives from Indonesian Food and Drug Supervisory Agency gathered and communicated the facts about safe food packaging for health based on laboratory testing and environmental sustainability based on comparative studies in other countries, in a Media Workshop entitled "Strawberry Not Causing Cancer - The Myths and Facts Behind the Styrofoam Food Package " at Hotel Mulia, Senayan, Jakarta (18/01).
Speaker from POM Indonesia, Dra. Ani Rohmaniyati MSi., Head of Sub Directorate of Standardization of Products and Dangerous Materials, Directorate of Product and Dangerous Products Control, Indonesian POM Agency, said that the testing for food packaging has been done since 2009 by BPOM. BPOM gives a statement that the packaging is safe for use by the people of Indonesia. "In 2009, BPOM has conducted independent research for 17 polystyrene-based packaging. In the 17 packs found that the ppm residue is still in a very safe number, ie 10 - 43 ppm. This figure is far below the dangerous level for food packaging residue," said Ani.
In addition to the health side, the issue of this polystyrene food packaging is also often associated with the environment. In response to this, Head of Technology Laboratory of Polymers and Membranes Institute Technology Bandung (LPTM ITB), Ir. Akhmad Zainal Abidin, M.Sc., Ph.D explained that polystyrene food packaging is the most sustainable packaging for the environment.
"We must judge an environmentally friendly material is if from the production side to the waste at least use energy and waste can be recycled. Do not leave the garbage to be decomposed by nature alone, but we must be responsible for the waste. Polystyrene rubbish is 100% reusable waste. Rubbish products from polystyrene can be broken down, and re-formed into new products" he said.
In this Media Workshop, polystyrene industry actors from upstream to downstream are also invited to convey the economic condition supported by this industry and the industry that arises from polystyrene waste management. One of the industry speakers was Libby Fong, Product Stewardship Specialist from Trinseo Hong Kong. Trinseo is a global provider of chemical solutions and manufactures plastics, latex binders, and synthesis rubbers. One of Trinseo's plastic products is a versatile polystyrene resin that can be used to package dairy products, food services, cakes and breads, frozen food products, and more. "By giving priority to security, quality, efficiency, and community partnerships, our approach - focused on the future - creates positive change every day." Libby Fong said.
Wahyudi Sulistya, Director of the Kemasan Group, based in Surabaya, describes how much labor has been successfully absorbed by this polystyrene food packaging industry and what impacts there would be if there is a ban on the production of the most sustainable food packaging for the environment. "There are about 3,500 people working in the polystyrene industry, and all may be in danger of losing their jobs in the event of a ban. Not only that, when prohibited, this packaging will be hard to find, so it must be replaced by other packing material that will be heavy impact for Indonesian street vendors and will definitely incriminate consumers in terms of price" he said.
Compared to other garbage, plastic and polystyrene are the most valuable waste, because the material can be recycled to the maximum extent possible. The head of the Indonesian Plastic Recycling Association (ADUPI), Christine Halim who became one of the speakers, shared what challenges they face in recycling plastics, including polystyrene. "In Indonesia, we face several challenges that must be addressed in developing the plastic recycling industry. Some of these challenges are people's knowledge of waste management and the government's untapped maximum policy. "He hopes that the Indonesian government and industry players can work together to develop the plastic recycling industry because this industry is very potential for economic development and beneficial to society.
This Media Workshop aims to provide facts and data that has been unknown to the public at large. The use of food packaging made from polystyrene was replaced with food packaging from paper, which is where the packaging material of paper food is generally still covered by plastic and more expensive. Packaging made from polystyrene is also very light, so it can save more energy in terms of logistics.