Besides Sidrap, Three PLTBs will soon be operating in the near future
By : Hariyanto And Aldo Bella Putra | Friday, January 26 2018 - 19:00 IWST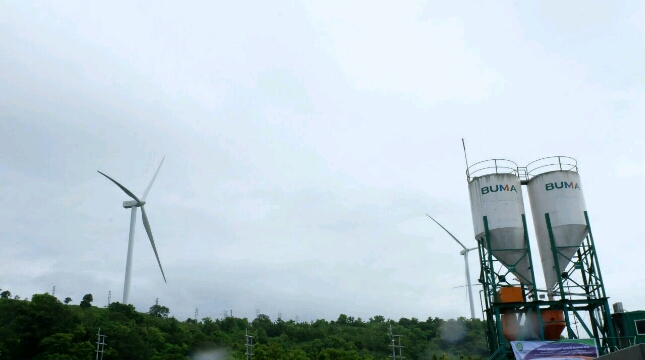 PLTB Sidrap
INDUSTRY.co.id - Jakarta - Wind power plant or Bayu (PLTB) Sidrap with a capacity of 70 MW contract will soon be operational early 2018.
After an interconnection trial with PT PLN (Persero) network in the first week of January, the plant located in the hilly area of ​​Mattirosari Village and Lainungan, Watangpulu Subdistrict, Sidenreng Rappang Regency (Sidrap), South Sulawesi became the first large-scale commercial plant in Indonesia. Utilizing wind energy.
In addition to the Sidrap I PLTB, three other PLTBs are scheduled to operate in the near future. The three plants are PLTB Sidrap phase II, Jeneponto PLTB located in Jeneponto, South Sulawesi and PLTB Tanah Laut, located in Pelaihari District, Tanah Laut Regency, South Kalimantan Province.
"In addition to the first phase of the Sidrap wind power plant that will be fully operational by early this year, there will also be 3 more wind power plants to be completed, namely Sidrap phase 2, Jeneponto and Tanah Laut, all of which are very economical, meaning that the EBT targets are achieved and the price of electricity cheap for the people is also realized," said Agung Pribadi, Head of Communication Bureau, Public Information Service and Cooperation, Ministry of ESDM, Thursday (25/1/208).
As with the Sidrap Phase I PLTB, the second phase of PLTB Sidrap with a capacity of 50 megawatts (MW) will also be built by PT UPC Sidrap Bayu Energy. The selling price of electricity from the plant is agreed in accordance with the Ministerial Regulation (Permen) of ESDM Number 50 of 2017 on Utilization of Renewable Energy Sources for Power Supply, under 85% of the Cost of Provision of Generation (BPP) of South Sulawesi, Southeast Sulawesi and Sulawesi West (Sulselrabar) which is 8.10 cent US $ per kWh. PT PLN (Persero) will prepare a technical study related to the implementation of PLTB Sidrap II to the PLN network system.
Meanwhile, the 60 MW capacities Jeneponto PLTB, with an investment of US $ 150 million, are targeted to operate commercially (Commercial Operation Date / COD) in 2018. With an estimated wind speed of about 7.5 to 8 meters per second (m / s) , This PLTB will produce an average of 198.6 Gigawatt hours (GWh) per year. The project absorbed at least 190 workers.
In addition to PLTB Sidrap II and Jeneponto, PLTB Tanah Laut in South Kalimantan will also complete a series of PLTB that will operate in Indonesia. The developer of PLTB Tanah Laut is a consortium of Pace Energy pte. Ltd & PT Juvisk Tri Swarna. The signing of the Letter of Intent (LoI) was witnessed by Energy and Mineral Resources Minister Ignatius Jonan on the sidelines of the Renewable Energy Companies Committed to Climate event, in a series of One Plannet Summit, at UNESCO Headquarters in Paris on the 11th December 2017.
PLTB Tanah Laut, with an investment value of US $ 153 million, is targeted by COD in 2021. The plant will be built in three phases, with phase I of 70 MW, phase II of 20 MW and the third phase with a capacity of 60 MW. The strong support and location permit are also shown by the Tanah Laut Regent for the development of this PLTB.
In addition to the three coal-fired power plants, the Government is also encouraging the development of new Renewable Energy-based power plants (EBT) by continuously monitoring several power plants, such as Larantuka Marine Flow (25 MW) and Cirata Floating (200 MWp).