President Jokowi: Economic Development Sustains Peace
By : Herry Barus And Aldi Firhand. A | Tuesday, January 30 2018 - 04:11 IWST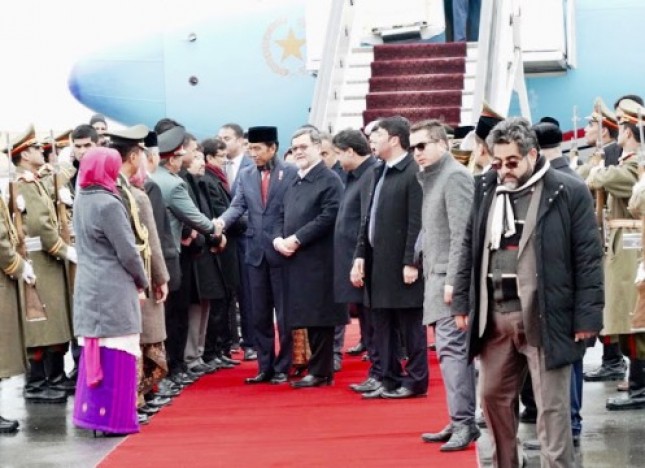 President Jokowi in Afghanistan Photo: Press Bureau of the Secretariat
INDUSTRY.co.id - Jakarta - President Joko Widodo in a bilateral meeting with Afghan President Ashraf Ghani agreed peace-building efforts in Afghanistan should also be sustained by the country's economic development and should go hand in hand.
"Without peace there will be no prosperity, no prosperity, peace will not be sustainable, therefore, when we work together to build peace, economic cooperation must be increased in parallel," President Jokowi said at the Agricultural Presidency of Kabul on Monday ( 29/1/218)
President Jokowi explained that the trade value of the two countries is still relatively low. Jokowi believes the potential of trade cooperation between the two countries is huge.
Therefore, the President will follow up the potential for cooperation by assigning related parties.
"I have asked my ministers to encourage 'business-to-business contact'," said the President in the statement of the Deputy for Protocol, Press and Media Secretariat of President Bey Machmudin received media crew in Jakarta.
Earlier, about 100 Afghan businessmen attended the Trade Expo Indonesia in 2017. Their arrival posted a transaction value of more than 1.1 million US dollars.
President Joko Widodo promised to send a potential business delegation to Afghanistan in the first quarter of 2018.
"I am sure that more intensive interaction between businesspeople of both countries can open various cooperation opportunities," said the President.
In addition, Indonesia's support for peace efforts in Afghanistan is also shown by the cooperation of increasing human resources capacity.
Indonesia, according to Jokowi, will continue to improve the capacity building programs of Afghan society such as women empowerment, development of SMEs, health sector, law enforcement, and governance.
"Indonesia is also ready to provide 100 scholarships for Afghan students," added the President.
During a bilateral meeting, President Ghani repeatedly expressed his appreciation for President Jokowi's commitment to the peace process in Afghanistan, through cooperation in the context of peace-building.