President Jokowi and President Ghani Switch Head Cover
By : Herry Barus And Aldo Bella Putra | Tuesday, January 30 2018 - 16:00 IWST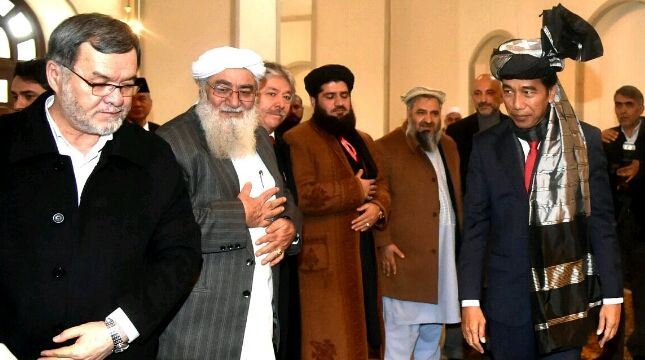 Presiden Jokowi kunjungan kerja ke Afghanistan (Foto Dok Industry.co.id)
INDUSTRY.co.id - Jakarta - There is a unique story when President Joko Widodo and Afghan President Ashraf Ghani held a bilateral meeting that is exchanging headgear worn by each head of state accompanied by jokes on Monday (29/1/2018) ago.
"President Jokowi accepts 'longi', a long dangling hat and also wearing a 'chapan', a typical Afghan robe.This 'longi' cascade when stretched to 7 meters.
"While President Ashraf Ghani replaced his mantle with a black hat directly imposed by President Jokowi," said the statement of the Deputy of Protocol, Press and Media Secretariat of President Bey Machmudin received Antara in Jakarta on Tuesday (30/1/2018).
It shows how familiar and warm the relationship between the two heads of state during the visit of President Jokowi to Afghanistan, which was hit by the conflict in the country.
After mutual exchange of headgear, Jokowi and Ghani perform zuhur prayers in congregation at the mosque located in the Presidential Palace Agr.
Earlier, on arrival at Hamid Karzai International Airport, Kabul, Afghanistan, President Jokowi and Mrs. Iriana moved through snow and cold winds along the road to the Agr Presidential Palace for 10 minutes.
The President was immediately greeted with the warm embrace of President Ashraf Ghani, so it looks like two friends who have not met.
The two heads of state immediately walked side by side following the state ceremony with temperatures reaching 1 degree Celsius accompanied by snowfall that did not obstruct the warmth of both.
At the time of the troop inspection, the two cast a smile as a message to the world that friendship and peace are key in manifesting well-being.
Meanwhile, during the "tete-a-tete" meeting aka the four eyes, familiarity was clearly visible.
"There is no tension that shows them in a city just rocked by a bomb blast several hours earlier," Bey explained.
Later in a joint press statement, President Ghani showed a close relationship with Indonesia.
"His Majesty's arrival does not have to bring gold, but it brings rain and snow, rain and snow are blessings for us Snow and rain never choose to go down on the rich or the poor," President Ghani said.
Badge At a state lunch at the Presidential Palace of Agr, President Jokowi received the "Medal of Ghazi Amanullah" badge from the Afghan President.
Embedding this badge as a tribute to President Jokowi for his courage and courage in advancing the bilateral relations between Indonesia and Afghanistan, especially in seeking peace building in Afghanistan.
"Thank you for the gift of Medal Ghazi Amanullah This medal will be a new spirit to improve bilateral relations and peace," explained President Jokowi.
Although only in Kabul for a quarter day, it shows the President's determination to build peace on a global level, especially in Afghanistan as mandated by the 1945 Constitution.
As for President Ghani, the presence of a leader of the nation of the largest country in ASEAN, President Jokowi, is so valuable in showing the world that Afghanistan is able to provide security to the guests of state and push for peace to be realized soon.