In 2018, Modalku Aims to Empower More MSME Industries Without Credit Access in Indonesia
By : Aldi Firhand Alqudri | Tuesday, January 30 2018 - 16:39 IWST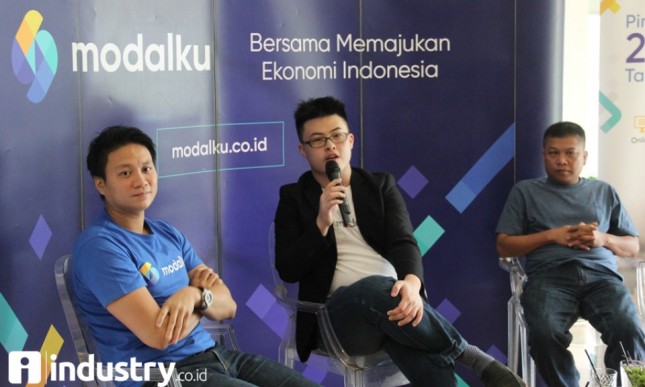 Modalku Press Conference (Herlambang / INDUSTRY.co.id)
INDUSTRY.co.id - Jakarta, 25 January 2018 – As it begins its second year of operations in Indonesia, Modalku Group, Indonesia's pioneer P2P lending startup, has successfully disbursed Rp 1 trillion in total working capital loans across more than 2.000 MSME (Micro, Small, and Medium Enterprises) deals in Indonesia, Singapore, and Malaysia. In Indonesia alone, Modalku has crowdfunded more than Rp 540 billion in MSME loans. As the largest P2P lending platform in Southeast Asia, Modalku will spend 2018 focusing on broadening working capital access for Indonesian MSMEs.
A challenge often faced by MSMEs is lack of credit access caused by a number of factors: not enough collateral, no credit history, or incompatibility between loan products and MSME needs. By focusing on three industries while widening access to loans, Modalku hopes to accelerate its support for financial inclusion in Indonesia. The P2P lending business model is also expected to become a source of alternative financing for MSMEs. By financing MSME loans, Modalku lenders obtain an alternative investment with attractive return rates, higher than deposits or bonds. On the other hand, MSME borrowers receive working capital loans with no collateral requirements and a fast, simple online process.
According to data cited by the Financial Services Authority (OJK), there is a national credit need of Rp 1.700 trillion per year for Indonesian MSMEs. Currently, financial institutions can cover Rp 700 trillion of that total need, creating an annual financing gap of Rp 1.000 trillion. Lack of credit access for local MSMEs not only harms small businesses, but also handicaps the national economy. A study by Modalku and Oliver Wyman, a well-regarded management consultant firm, found that lack of loan access for growing MSMEs in Indonesia caused a 14% loss of total GDP in 2015.
Iwan Kurniawan, Co-Founder and COO of Modalku, said, "This year, Modalku will focus on trading, manufacturing, and service industries. Why these three sectors? Our data shows that at the end of 2017, around 87% of our total disbursement were addressed to these industries. Of course, we have supported other industries, such as construction, health, F&B, tourism, and will continue to do so. Modalku will be even more active in empowering MSMEs in 2018. We have great hopes that Modalku's presence in the financial technology industry will provide fresh opportunities for local MSMEs and support financial inclusion in Indonesia."
Muhamad Sofyan Hadi, owner of the MSME Karya Putra Mandiri and one of Modalku's borrowers, said, "Our business is in the trading industry, we process factory waste. The company has been operating for 4 years and one day, we reached a point where we needed to expand our business thanks to increasing customer demand. However, we always found difficulties in obtaining working capital loans as we had limited collateral. At first, I borrowed from family and friends, but this wasn't the best way to grow your business. Since applying for and receiving a Modalku loan, I have successfully grown my business and achieved a 50% increase in revenue within less than 1 year."
On a macro scale, OJK's latest statistics show that Indonesia's P2P lending sector has financed Rp 2,5 trillion worth of crowdfunded loans throughout 2017. The amount includes Modalku's contribution. Iwan Kurniawan predicts this number will increase in 2018, with the burgeoning popularity of P2P lending in Indonesia. P2P lending's imminent growth will drive positive impact for small businesses in Indonesia and the national economy.
Modalku is the largest P2P lending platform in Indonesia and Southeast Asia. Modalku also operates in Singapore and Malaysia under the name Funding Societies. Since early June, Modalku has been officially registered at OJK. In September 2017, Modalku won the Global SME Excellence Award from ITU Telecom, one of the United Nations' special agencies. Modalku is the first and only Asian startup to win the award. The award displays global recognition of FinTech solutions' positive impact for society.
About Modalku
Founded at the tunnels of Harvard Business School, Modalku (Funding Societies) is led by Harvard and Stanford graduates from Southeast Asia. Modalku (and Funding Societies) operate in Indonesia, Singapore, and Malaysia. It focuses on underserved MSMEs looking for working capital loans and underserved retail investors seeking alternative investment. In August 2016, Modalku (Funding Societies) received the largest series A funding for a Southeast Asian peer-to-peer (P2P) lending platform from Sequoia India and Alpha JWC.
Modalku is a trademark owned by PT Mitrausaha Indonesia Grup. Legally, Modalku is registered in Financial Services Authority (OJK) as peer-to-peer lending based on technology. Modalku's mission is to empower MSMEs through their peer-to-peer lending platform. Modalku is committed to becoming a center of solutions for MSMEs, lenders, and regulators.