When Jokowi Becomes Journalist, and Journalist Becomes President
By : Nandi Nanti And Aldo Bella Putra | Friday, February 09 2018 - 15:00 IWST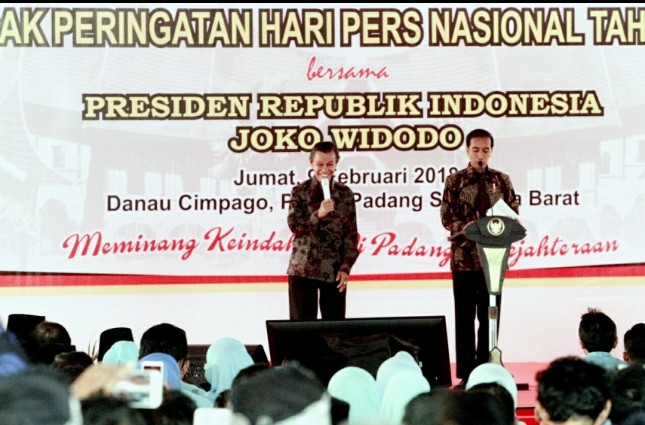 Presiden Jokowi jadi Wartawan di HPN 2018 (Rino/INDUSTRY.co.id)
INDUSTRY.co.id - Padang, There are interesting from the peak of National Press Day (HPN) celebration that was held at Cimpago Lake, Padang Beach, West Sumatra, on Friday (9/2). In front of thousands of invited guests in attendance, President Jokowi suddenly asked one of the audiences to step on stage.
"I ask one reporter to come forward, point the first finger of the future, who want to go a lot, confused me," said Jokowi.
"This senior journalist, I want the junior who came senior, it's ok please. Please introduce first pack," continued Jokowi start a conversation with Journalists who chosen advanced stage.
Journalist: Name, I am Muhammad Yusri Nur Raja Agam.
Jokowi: Muhammad Yusri Nur Raja Agam, there is also this king.
Yusri: The journalist in Surabaya is only 40 years old.
Jokowi: Means his men Mr. Karwo
Yusri: Good father of reporter's brother, what is to be asked?
Jokowi: I do not dare like that to reporters like that, what would be asked, plasticity sure, this is very good presidential jdi.
Jokowi: Do you have minister 34, which minister do you think is the most important?
Yusri: Actually all important, but most importantly,
Jokowi: It's really political (greeted with laughter)
Yusri: Minister who can be a comfortable president.
Jokowi: What is the most important minister considered? Just to the point sir? Do not long-winded, I have not been able to write, not understand.
Yusri: Well, the minister who takes care of journalists.
Jokowi: Which means what's important minister?
Yusri: Who deals with journalists
Jokowi: What's that minister?
Yusri: If now his name is Kominfo,
Jokowi: Sir, thinks most important, why?
Yusri: For information delivered from the city to the village, all receive information and communication. Includes political information
Jokowi: Look here; bluntly, I am often annoyed sometimes, sometimes annoyed, the initial question was good, got to the middle of a difficult question, now I ask to the president's pack, what media is the most annoying, the father often annoyed. Answer president openly,
Yusri: The media is junky
Jokowi: There is no media castle junky, the media is official everything, but a lot of annoying, tell what it is, which sir? Either TV, online, print media, which one? You are interviewed every day in front of the palace, you know, the journalist is nobody, who asked who it is.
Yusri: The most annoying thing is the Free People. (Greeting laughter)
Jokowi: Mr. president is as outspoken as I feel. Exactly the same. Why the president's father, why the people of Merdeka
Yusri: Yes if his people are free, their leaders are hard,
Jokowi: The leader is difficult to do what?
Yusri: If independence, everything is considered independent, it is the rule of independence.
Jokowi: Yes thanks Yusri, now change again, my president. I gave the bike one.
"I am very happy sir yusri was blak2an banget, directly to the points of the people's independence," concluded Jokowi end his conversation with Journalist from Surabaya