Tobacco Bill Needs to Reach Tobacco Farmers Empowerment Issues
By : Hariyanto And Aldo Bella Putra | Friday, February 09 2018 - 20:00 IWST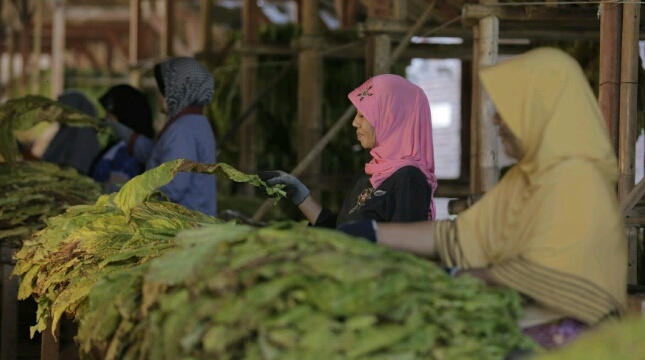 Petani Tembakau binaan
INDUSTRY.co.id - Surabaya - Special Committee (Pansus) Tobacco Bill held a meeting with the cigarette industry in Surabaya, East Java, Thursday (8/2/2018).
Member of the Committee on Tobacco Bill, M Misbakhun said the various inputs that will be very positive for the discussion of the draft rules of the initiative results of the House. For example, the tobacco industry absorbs a lot of manpower without special expertise, especially in the hand-rolled cigarette section.
"On average they are women and by working as factory workers of cigarettes, they have enough income and can improve the living standards and welfare of their families," said Misbakhun.
He said the local tobacco uptake from the tobacco industry in Surabaya is also quite high, ranging from 70% -84% in the last ten years.
"The percentage of local tobacco tobacco industry absorption is strongly influenced by government regulations on trade regulation, price level and health regulation on cigarettes," Misbakhun said.
Misbakhun asserted, aspirations that want to cigarette industry, using local tobacco up to 80%, need to be studied carefully.
Because, if the policy is implemented without proper preparation of the availability of tobacco land, provision of superior seeds, to post-harvest processing will have a serious impact for the cigarette industry.
"Because there are parts of cigarettes that must be filled by tobacco which varieties are not available in Indonesia and cannot be planted in Indonesia, so it must be imported," said the initiator of the Tobacco Bill.
Misbakhun also praised the good partnership between the cigarette industries in Surabaya with the tobacco farmers. According to him, the partnership is not only formal, but also informal and has been running for decades.
"The tobacco industry supports a partnership with farmers on a mutually beneficial principle," he said.
Misbakhun said the Tobacco Bill also needs to reach the issue of farmer empowerment. The goal is to improve the lives of tobacco farmers.
"So that the farmers' standard of living increases through the economic price of tobacco is adequate and profitable and there is a pattern of partnership with the industry so that there is continuity of mutually beneficial processes," said Misbakhun.