OKINO C100, Tiny Vape With O-Tape Coil Technology
By : Abraham Sihombing | Thursday, September 29 2022 - 15:38 IWST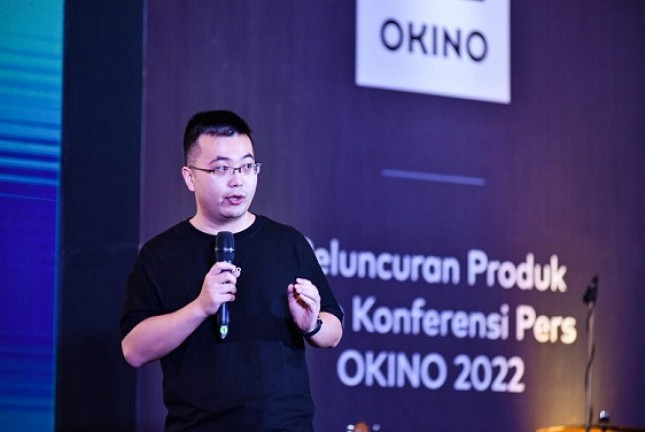 Launch of OKINO C100, tiny vape with O-Tape Coil technology. (Photo: OKINO Public Relations)
INDUSTRY.co.id - Jakarta - The consumption of e-cigarettes in Indonesia continues to increase. The Indonesian Personal Vaporizer Association (APVI) estimates that there are currently 2.2 million e-cigarette (vape) users. This number is higher than 1.5 million in last year.
The growth of the market is in line with the increasing awareness of smokers to consume safer nicotine. The association estimates the potential of vape market in Indonesia can reach Rp 7.9 trillion.
This market potential has the chance to increase. This is considering that vape users still have a big niche market. Moreover, the association estimates that there are 80 million smokers in the country, making Indonesia an attractive market for global e-cigarette manufacturers.
One of them is OKINO, which launched a new vape product labeled C100. The launch event was held at the Ritz Carlton Hotel, Jakarta, on Saturday, September 24, 2022. Vape connoisseurs can already pre-order on OKINO's official website.
The C100 product has an exclusive technology of "O-tape coil" that can lock in the taste and aroma since the e-liquid is injected. This technology guarantees that the smoked taste does not change. If likened, this technology allows anything that is incorporated into the C100, that sense will be obtained.
"OKINO has received many orders from many distributors in Indonesia and has received great attention from young vapers," William Shi, Brand Manager of OKINO, told reporters during the launch event. According to him, the high interest of vapers in the C100 is the first step in OKINO's success.
The C100 is the first RDTL product to be based on an O-tape coil. The product has high performance in the recovery process and transmits the perfect e-liquid flavor. As a result, the impression felt when vaping is almost the same as the aroma emitted.
Vapers can feel the best sensations and experiences. Although the C100 is an RDTL product, it allows users to experience the pleasure of large smokes at all times. In addition, this technology is also able to extend the service life of the O-tape coil.
The C100 has a unique design with six color options. When you smoke, the circle at the bottom of the product will light up according to the surface. Its tiny dimensions, which are 104 x 25 mm, make it as small as a snickers bar. Users can hold the C100 in their hands or hang it around the neck, so it is very easy to carry the OKINO C100 anywhere. Wearing it is not only a fashion for young people, but also in line with OKINO's style.
OKINO is part of the trademark of Chinese vape manufacturer INNOKIN, which has been working on e-cigarettes since 2011. Currently, INNOKIN products have been used by more than 10 million people spread across 80 countries. (*)