Rely on e-Commerce and Tourism, Investment Can Rise 12%
By : Dhiyan W Wibowo And Aldo Bella Putra | Sunday, February 11 2018 - 23:00 IWST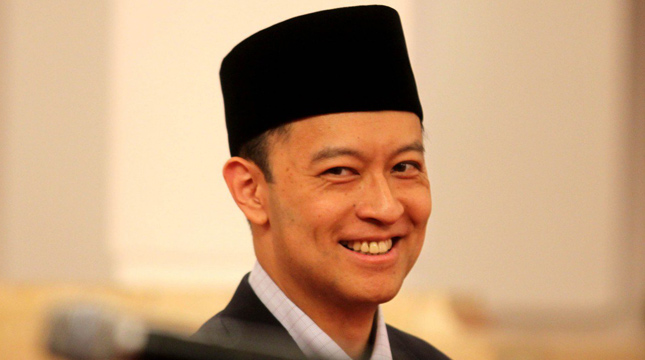 Kepala Badan Koordinasi Penanaman Modal (BKPM) Thomas Lembong
INDUSTRY.co.id - Jakarta - The Investment Coordinating Board (BKPM) is optimistic to hoist the growth of new foreign and domestic investment by 12% by 2018. However, this optimism still has to deal with the classic problem for new investment in the country, from land acquisition to regulation in the area.
Entering the year Land Dog 2018, optimism is penetrated every sector of the economy, until economic growth this year is pegged slightly well than last year 2017. Bank Indonesia for example, which in 2017 predicted growth reached 5.1% of GDP, but entering this year the central bank forecasts economic growth will be in the range of 5.1% - 5.5%.
While the Asian Development Bank (ADB) predicts that by 2018 Indonesia's economic growth will reach 5.3%. Supported private investment is expected to increase slowly, as the positive impact of government policy reforms begins.
One of the motors of growth is certainly investment. So when the global rating agency raises the investment rating of Indonesia, some circles began to be optimistic that there will be an increase in economic growth in the country. The reason for the rise in ratings is assumed to be followed by an increase in inflows of investment into the country, which will then become 'fuel' for economic growth.
Well, as a retainer of investment in the country, the Investment Coordinating Board (BKPM) does have a pretty good optimism, that incoming investment will increase up to 12%. Head of Investment Coordinating Board (BKPM), Thomas Lembong, said that the company targets the realization of direct investment in 2018 to reach 12 percent.
This is at least seen from the target of realization of investment in 2018 amounting to Rp765 trillion. This figure rose 12.7% from the target year 2017 set at Rp678, 8 trillion. As of September 2017, BKPM recorded Rp 513.2 trillion in realized investment.
In order to achieve the increased investment target, BKPM will seek to increase investment in the e-commerce sector. Because he saw during 2017 alone, this sector has grown in the range of 50% - 80%, and investments managed to penetrate the figure of US $ 5 billion. This figure, said Thomas Lembong, is already half the investment in the oil and gas sector in the same year.
Launching data from BKPM, the incoming investment in the sizable e-commerce sector comes from China. Mentioned Lembong, one of which is the result of Alibaba Group investment that disbursed more than US $ 3 billion or equivalent Rp40 trillion to Lazada and Tokopedia. Including Tencent reportedly injected US $ 1.2 billion or about Rp 16 trillion to online transportation business, Go-Jek.
However, the government will encourage new investment from countries outside of China, such as the United States, Japan, and Europe. "We will strive from many countries," said Lembong in Jakarta in early February.
In addition to e-commerce, Thomas said the government also still relies on the tourism sector as one of supporting investment. Tourism is considered the most promising with the geographical conditions of the state of Indonesia. In addition through this sector generated many jobs engaged in the field of services.
Related to the attractiveness of the tourism sector, in a video message played at the UOB Indonesia Economic Outlook 2018 event in Jakarta, (14/11/2017), Lembong referred to this sector as a sector that has not received much attention.
Tourism has become promising because of the government policy issued several years ago, related to visa exemption to 170 countries. The government is also actively campaigning for the development of ten New Bali. In addition, in terms of infrastructure development continues to be encouraged, such as airports, roads, power plant participants in tourism destinations.
Thus the purpose of the previous tour can be reached cheaper and faster. "Investors I think have kissed this, so investment in tourism will grow again than ever before," said Lembong.
Nevertheless, despite this optimism, investors who will sink their funds in Indonesia are still complaining about a number of obstacles. Director of Regional Promotion Facility Investment Coordinating Board (BKPM) Husen Maulana noted there are five barriers to investing in Indonesia are often complained of by investors. The first two issues of investor complaint are the inconsistency of rules and taxes. "The tax problem (arises) because of different perceptions. Government and corporate perceptions are sometimes different," Husen said in Jakarta some time ago.
Other issues that remain obstacles are the quality of labor, land availability and constraints of development permit, and quality of infrastructure. Insufficient quality of infrastructure, ultimately resulting is in an uneven distribution of investments. By region, in January-December 2017, the realization of PMDN still dominant in Java. The obstacle, Husen said, is the limited infrastructure outside Java. "Whereas there is the task of leveling investment throughout Indonesia. So if there is development outside Java is more intensified, then investment could be better," said Husen.
Previously, Thomas Lembong as the number one person in BKPM also had the same complaint. Medio October 2017 ago, to the media he delivered some notes that become obstacles to attract investors into Indonesia. One of the problems or obstacles that exist in the local government is related to the data of investors who are not online. Furthermore, in the future BKPM plans to create an online database that can later be used by BKPM area for free.
"In addition, in areas where many of the terms and standards were made permission, it must be returned from permission back to terms and standards," said Thomas.
Spoken by Thomas, Indonesia is currently competing with several neighboring countries such as Malaysia, Thailand and Vietnam to get foreign investment. The entry of foreign investment is not only open jobs, but also technology transfer, expertise and expansion of corporate networks.
"I need to say, we face very fierce competition from these three countries to attract investment in. Our investment challenges are still many, still many obstacles, I openly acknowledge," said the man who had served as Minister of Commerce this.
Nevertheless, he mentioned that there are no steps taken by BKPM. In the last few years a lot of homework has been completed. Some significant changes include strengthening One Stop Integrated Services (PTSP) and targeting three hours of investment license services.
In addition, BKPM is also innovating utilizing licensing information technology with single submission, digital signature, and running concrete steps in resolving investment barriers. The hope, investment from the side of licensing and implementation in the field will culminate in investment.