30 Years, Toyota Successfully Exports 1.1 Million Units Of Car
By : Aldi Firhand Alqudri | Monday, July 31 2017 - 15:10 IWST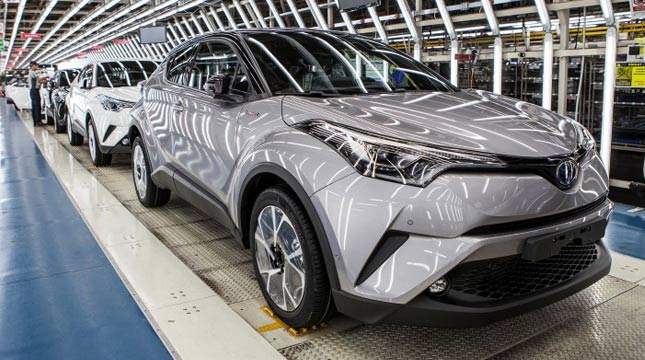 30 Years, Toyota Successfully Exports 1.1 Million Units of Car
INDUSTRY.co.id - Jakarta - PT Toyota Motor Manufacturing Indonesia (TMMIN) noted that it has exported 1.1 million units of intact vehicles in the last 30 years. The manufacturer also noted exports in the form of biodegradable vehicles totaling 833,500 units, 1.47 million intact machines and more than 648 million pieces of components with a total value of up to US $ 19 billion (approximately Rp 250 trillion).
President Director of TMMIN Warih Andang Tjahjono said that the first export of Toyota Indonesia began with Toyota Kijang in (Kijang Super) to Brunei Darussalam and some countries in Asia-Pacific, 30 years ago. "After the initial export in 1987, a year later Toyota Indonesia sent 5K engines to Japan," said Warih, last weekend.
According to Warih, the 5K machine is manufactured at the Sunter Factory 1. Machine exports continued in 1996 to Taiwan and the Filipian with a 7K engine type. Toyota Indonesia's export trends increased in 2004. In this year, Toyota Kijang who took the grade through Innova was exported to Thailand. In the same year, a car of a million people Toyota Avanza also exported to the land of the White Elephant.
In 2005, Toyota Indonesia began exporting Kijang Innova to member countries of the Gilf Cooperation Council (GCC). The next exports are engine (ethanol) to Argentina (2010), TR engine to Kazakhtan (2013), Toyota Agya to the Philippines (2014), Toyota Vios to GCC (2014), Toyota Avanza to GCC (2014), Toyota Sienta to country- Asian countries, including Sienta standard Euro 6 to Singapore (2016).
Total to date Toyota Indonesia has been exporting to more than 80 countries in Asia, Middle East, Latin America, Africa and Osenia. "Currently we are still doing studies for exports to new countries, one of them is Morocco," he said.
Vice President Director of TMMIN Edward Otto Kanter said that currently Toyota Indonesia has 5 factories located in Sunter, North Jakarta (Sunter 1 and Sunter 2) and in Karawang, West Java (Karawang 1, Karawang 2, and Karawang 3). "The factories have modern technology that is not inferior to Toyota's factories in Japan," he said.
Factory Kawarang 1, continued Edward, used to produce Toyota Kijang Innova and Toyota Fortuner with a production capacity of 130 thousand units per year. While the Falkirk Factory 2 is used to produce Toyota Etios, Toyota Vios (including Limo), Toyota Yaris, and Toyota Sienta with a production capacity of 120 thousand units per year. Falkirk 3 factory is used to produce gasoline engine and ethanol type NR. Its production capacity reaches 216 thousand units per year.
Meanwhile, Sunter 1 Factory is utilized to produce gasoline engine and ethanol type TR and Sunter 2 Factory produce stamping parts, dies, iron castings. "The production capacity at the Sunter Factory reaches 190 thousand units (machinery) and 12 thousand tons (iron castings)," he said.