Gatot Pramono: The Role of Technology in Education is Still Minimal
By : Dina Astria And Aldo Bella Putra | Tuesday, February 13 2018 - 19:00 IWST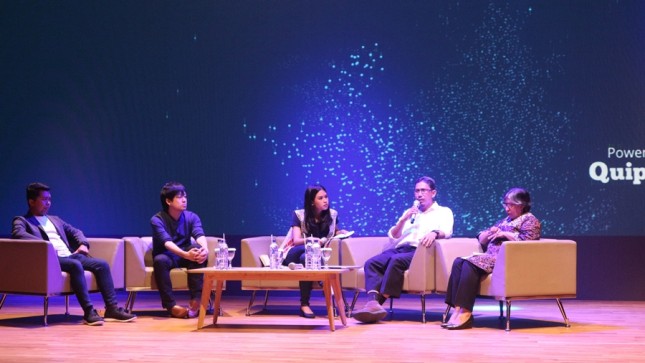 Acara Panel Diskusi "Melangkah Maju dengan Teknologi dan Pendidikan" bersama Quipper Indonesia, Senin (12/2). (Foto: Dina Astria/Industry.co.id)
INDUSTRY.co.id - Jakarta - Currently, the presence of technology that can make innovations in conveying knowledge as a source of education is very helpful for every educator, the students, parents, teachers and the school. But the use of technology in education still needs to make a very deep adjustment.
Head of Center for Technology and Information and Communications Ministry of Education and Culture, Gatot Pramono revealed that the role of technology in education is still very minimal.
According to him, the role of new technology to the bottom of it, has not reached the surface, not even to the students who get the knowledge deep enough.
Since the 2013 curriculum, it has provided an opportunity for education actors to improve the quality of education through the media.
"Sometimes so many media, but if from his own school does not give encouragement to his children to see it (technology-based learning media)," he explained again to Industry.co.id on Monday (12/2) at the National Library of Indonesia, Jakarta.
The presence of Computer Based National Exam (UNBK) and Bimbel Online is an opportunity for educational players to continue to utilize technology in the field of education.
"The arrival or presence of technology is not enough, there must still be supplements or support from parents, teachers or from their own children," close Gatot Pramono.