President Jokowi Signs Hindu-Buddhist Inauguration Inscription Center
By : Herry Barus And Aldo Bella Putra | Thursday, February 15 2018 - 14:00 IWST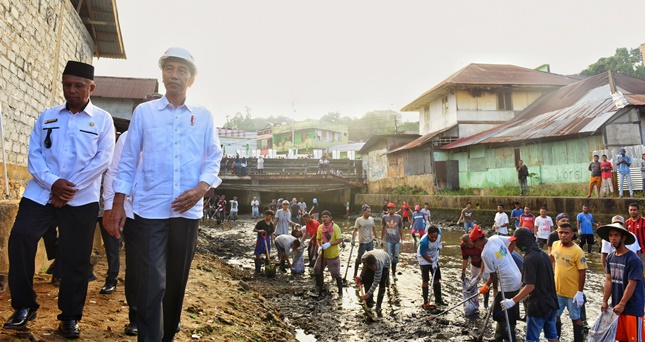 Presiden Jokowi kunjungan kerja ke Ambon Maluku (Foto Setkab)
INDUSTRY.co.id - Ambon - President Joko Widodo signed an inscription for the inauguration of Hindhu Center and Budha Center building at Pattimura Ambon Airport before flying out of Maluku province to continue working visit to South Sulawesi Province on Wednesday (14/2/2018).
"Two years ago in this place he also inaugurated the Christian Center and the Catholic Center, the same thing I do not want any difference, exactly this place sign the inscription," said Maluku Governor Said Assagaff after releasing the departure of the President and entourage at Pattimura Ambon Airport.
Said revealed that by signing the inscription of the inauguration of Hindhu Center and Buddhist Center will equip the Islam Center, Christian Center and Catholic Center which was built first.
The purpose of building the five centers of religious activities, said said, because it wants to make the Moluccas as laboratory harmony of the best religious life in Indonesia.
"I do not think there are any provinces that set up such a facility, maybe there is an Islamic center, but Christian Center may not exist, Catholic center does not exist, especially Hindhu and Budha Center," he said.
Said revealed that these five religious center buildings are not in one location, but in different places.
"If the Islamic Center, Christian Center and Catholic Center are on the beach, while the Hindhu Center and Budha Center are in the hills," he said.
Said also revealed that the President advised him, the chief of police of Mauluku and the Pattimura military commander to maintain the security stability.
"He told me a lot about Afghanistan and our country must be strong and there should be no disputes in our country, we have to take care of that harmony," he said.
To further realize harmony in Maluku, said also revealed that it has prepared the land to build multi-ethnic, multi-religious, multicultural village.
"All religions and tribes in one location, about eight hectares, we want to make all religions live there," he said.
Said admitted that the provinces only provide land, while the Minister of Public Works and Public Housing has promised to build buildings and houses and the Minister of Religious Affairs will build mosques, churches, temples.
"The President is happy to hear this discourse because it is a mission of religious harmony.