Various Dangerous Items In Indonesia Worth Rp 146.88 Billion
By : Herry Barus And Aldo Bella Putra | Thursday, February 15 2018 - 17:00 IWST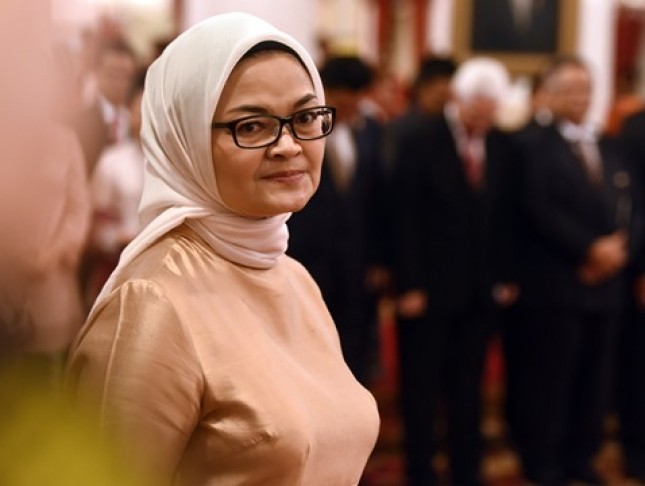 Kepala BPOM Penny K. Lukito (Foto Ist)
INDUSTRY.co.id - Jakarta - Food and Drug Supervisory Agency (BPOM) RI in cooperation with the security forces managed to find illegal imports of raw materials, medicines and cosmetics worth Rp146.88 billion over the period 2016-2017.
Based on the written statement in Jakarta on Wednesday (14/2/2018), the Head of BPOM of the Republic of Indonesia Penny Kusumastuti Lukito stated that the data had been submitted in a hearing meeting with Commission IX DPR RI.
"Most illegal products enter Indonesia through individuals because of the behavior of the community market.In addition to the dependence and habits of the community on products without distribution permit and price disparity, the rules of local government or cross-country are considered irrelevant, so that need to be strengthened again cross-sectoral cooperation on the border," Penny explained.
The details of the import value of illegal products in the form of drugs Rp6, 38 billion, food supplements Rp53 billion, cosmetics Rp78 billion and food Rp9, 5 billion.
These illegal imported products come from Singapore, Malaysia, Thailand, India and China entering through ports in East Kalimantan, Riau Islands as well as land routes on the border of West Kalimantan.
In cross-sectoral cooperation in monitoring and enforcement in border areas, BPOM RI has been communicating with the Indonesian Police, the Directorate General of Customs and Excise, and the Ministry of Home Affairs.
In addition, to improve the quality of public services, BPOM RI has done debirocratisationi by realizing the Service Excellence system that includes the addition of service schedules, technical guidance and coaching clinic.
Not only that, for improving the quality of public services, the use of information technology (e-registration and QR-Code) continues to be done not only for the acceleration of registration and licensing, but also increased effectiveness of supervision and transparency.
For this effectiveness, acceleration and transparency BPOM also revised and drafted new regulations, improved management, and supporting infrastructure.
"All this aims to create process transparency and acceleration of registration and public access to quality and safe products," Penny said.
Going forward, BPOM RI will continue to make continuous improvement steps, increase the capacity of e-registration system, simplification regulation, capacity building, service quality improvement and alignment on SMEs.
This is in accordance with the substance set forth in Presidential Regulation 80/2017 which in principle includes the sharpening of tasks, functions, and authority BPOM RI in order to strengthen the institutional BPOM in this new organization.
Institutional strengthening of BPOM RI in the Presidential Decree is focused on the function of BPOM RI in facilitation of development and fostering of medicine and food industry, especially related to the development of UMKM, strengthening of preventive deterrence function, intelligence and investigation against violation of provisions of laws and regulations in the field of POM through the establishment of Deputy Sector Action.
Especially regarding the explanation of supplement products containing pig DNA (Enzyplex and Viostin DS), the Head of BPOM RI exposed the chronology since pre-market (registration) has fulfilled the requirements, with the material coming from the cow.
However, problems arose after the product was circulated, which was then conducted post-market surveillance, BPOM RI conducted sampling of goods in circulation so that there were found batches that indicated contain pig DNA.
Subsequently sanctioned is the withdrawal of goods circulating from supplements indicated to contain pig DNA, as well as withdrawal of the product distribution permit.
Publication of pig DNA content in product and follow-up as well as new sanction will be published after obtaining complete supporting data to be publicly available for protection and education.
However BPOM RI has so far given a harsh warning to the circulating company, and product withdrawal from the market and the withdrawal of the product distribution license (NIE) of the product.
Meanwhile, Chairman of Commission IX DPR-RI Yusuf Macan Effendi (Dede Yusuf) welcomed the effort BPOM RI to tighten supervision in the border area.
He considered, border areas should be a priority BPOM RI in the allocation of construction of POM Center this year.
"We hope from the 50s of Balai POM to be built this year, the border areas become a priority, for example, Malaysia border only, as long as Kalimantan there are many POM centers needed," said Dede.
According to him, the region that directly borders neighboring countries is very risky to the circulation of imported products that are not feasible consumption and does not have a marketing authorization. This is due, because the behavior of people who still make buying and selling transactions across the border region.
Therefore, Dede supports BPOM RI to continuously improve cross-sectoral cooperation to improve border surveillance, especially in the "rat" track.