AKR Corporindo Will Add Gasoline and Biofuel Storage Capacity in Tanjung Priok
By : Hariyanto And Aldo Bella Putra | Monday, February 19 2018 - 17:00 IWST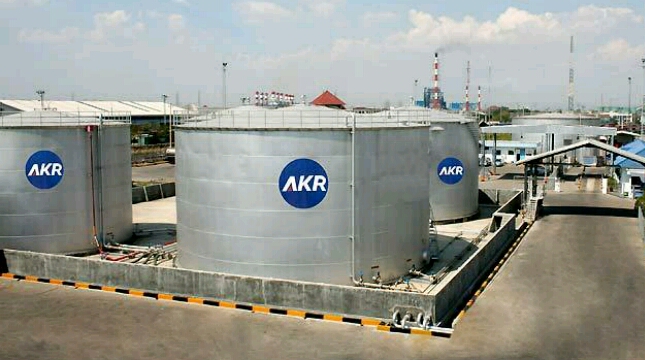 PT AKR Corporindo Tbk (ist)
INDUSTRY.co.id - Jakarta - PT AKR Corporindo Tbk (AKRA), through its subsidiary PT Jakarta Tank Terminal (JTT), will increase the storage capacity of gasoline and biofuel in Tanjung Priok, North Jakarta from 251,025 cubic metres (CBM) to 350 thousand cbm.
The addition of fuel tank capacity is in line with the economic growth of Indonesia and its population.
We estimate the market share of gasoline has increased rapidly in recent years, said Suresh Vembu, Director of AKR Corporindo in information disclosure, last weekend.
Jakarta Tank Terminal is a joint venture between AKR Corporindo and Royal Vopak. According to the plan, JTT will add eight tanks with a total capacity of 100,000 cbm.
Fuel tanks built include gasoline, ethanol, biodiesel, steam recovery units and additional mixing infrastructure that will enable customers to fulfill Indonesia's biofuel mandate.
The investment is in line with Vopak's strategy to facilitate customers in increasing import markets. The development of a fuel tank will also strengthen JTT's position as an independent fuel import location.
According to the plan, the capacity building is done gradually from the first quarter until the fourth quarter of 2019.
Royal Vopak is an independent storage tank company in the world. Vopak is listed on the Euronext Amsterdam stock exchange and is headquartered in Rotterdam, The Netherlands.
As of February 16, 2018, Vopak operates 66 terminals in 25 countries with a combined storage capacity of 35.9 million cbm, and another 3.1 million cbm is being developed, to be added before the end of 2019.
The planned development of a new fuel tank in JTT is projected to hoist AKR Corporindo's revenue in the future.
As of the end of September 2017, AKR Corporindo posted a 28.3% increase in its parent profit to Rp1.02 trillion. In fact, in the same period of the previous year, the company only recorded profit of the current period attributable to owners of the parent amounting to Rp793.19 billion.
The positive performance is in line with the increase in revenue to Rp13.43 trillion in the period from January to September 2017, up 22.65% from Rp10.95 trillion in the period from January to September 2016.
BBM AKR Corporindo's revenue for the first nine months of this year increased 21% to Rp8.96 trillion, compared to Rp7.39 trillion in the first nine months of last year.
Meanwhile, revenues from basic chemical trading in the period of January-September 2017 increased 33% to Rp3.22 trillion compared to Rp2.42 trillion in the period of January-September 2016 supported by an increase in demand for basic chemicals from industrial segments and an increase in average selling prices. On the other hand, revenues from industrial estates during the first nine months of this year were recorded at Rp401 billion. (De)