To Encourage Third Party Funds, Bank BTN Holds Roadshow Super Untung Jaman Now Program
By : Abraham Sihombing And Aldo Bella Putra | Monday, February 19 2018 - 22:00 IWST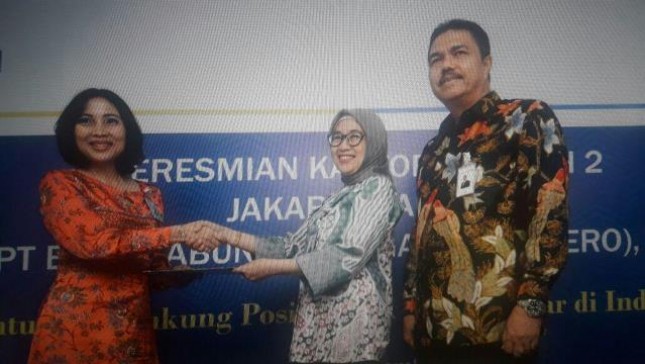 Budi Satria, Managing Director Network Distribution BTN (Foto Rizki Meirino)
INDUSTRY.co.id - Jakarta - PT Bank Tabungan Negara Tbk (BBTN), or BTN Bank, held a roadshow aka touring tour to reach third party funds (DPK) retail through Super Untung Jaman Now Program.
After success in Jakarta, Bekasi, Serpong and Surabaya, Bank BTN will carry out the roadshow program in Paragon Mall, Semarang, Central Java and E-Walk Mall Balikpapan, East Kalimantan, and Medan, North Sumatra.
Through the program, Bank BTN offers customers to keep their money at least Rp111 million in the state-owned bank and savers can directly bring home the iPhone X.
"Through this roadshow, we can directly interact with various potential customers to join this program through various entertainment events and contemporary merchandise for customers so they are interested in joining Super Untung Jaman Now program," said Budi Satria, Director of Bank BTN in Jakarta, Sunday (18/02/2018).
Super Untung Jaman Now is one of BTN Bank's strategy to continue developing Retail DPK consisting of BTN BataraTabungan, BTN Prima, BTN e'BataraPos, and retail Deposito.
With total savers of approximately 7.5 million customers, Bank BTN Retail DPK per February 14, 2018 grew 30% to Rp66, 79 trillion compared to the same period in 2017 amounting to Rp 51.38 trillion.
Meanwhile, specifically for Super Untung Jaman Now program, Bank BTN managed to hook 872 accounts far from the target set at the beginning of the program launch in December 2017 and amounted to 500 accounts.
Along with the addition of the number of accounts, the amount of savings Batara successfully reached Rp 1.2 trillion. With this achievement, Budi Satria is optimistic that Bank BTN can pursue the growth target of DPK 2018 between 19-22%.
Meanwhile, in Semarang, Central Java, the number of DPK held per February 14, 2018 reached about Rp2.2 trillion, growing by 91% over the same period last year.
Currently, the number of retail depositor deposits in the City of Jamu reached 404,528 accounts. While in Balikpapan, the growth of retail deposits, with 49,349 accounts, accounted for 29% or reached Rp418.3 billion per February 14, 2018 compared to the same period last year.
In consolidation, Bank BTN's DPK per February 18, 2018 grew by 20.45%. Growth was above the average growth of the banking industry in 2017 which only reached 9.8%.
"Both cities have the potential to provide additional DPK for Bank BTN because it has a positive economic growth and demographics of the community in accordance with this program, the customers who have great value but love the current goods as a form of appreciation in addition to interest savings, of course," said Budi.
In Super Untung Jaman Now program, Bank BTN provides a variety of contemporary items. Among them are iPhone, laptop, mirrorless camera, and audio device. To get the prize, said Budi, the customer just simply open the Savings BTN Batara and do the placement of funds within a certain time with a nominal in accordance with the type of gift desired. Duration can be selected from 6 to 60 months. Meanwhile, the program is valid until March 2018. (Abraham Sihombing)